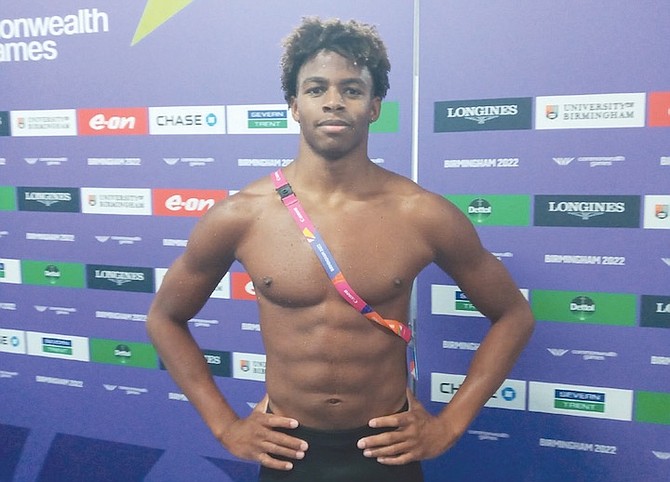 LAMAR Taylor
As of Thursday, August 4, 2022
By BRENT STUBBS
Senior Sports Reporter
bstubbs@tribunemedia.net
BIRMINGHAM, England — Seventh place in the final of the men's 50 metre freestyle at the Commonwealth Games is not a bad position for Lamar Taylor to take away from his swimming experience here.
As the first Bahamian male swimmer to compete in a Commonwealth final, since Jeremy Knowles got fourth in 2006 in Melbourne, Australia, Taylor gave it his best shot last night at the Sandwell Aquatic Center where he touched the wall out of lane one in 22.51 seconds.
England electrified the crowd with gold and silver from Benjamin Proud and Lewis Edward Burras in times of 21.36 and 21.68 respectively. Canada's Joshua Edwards was the recipient of the bronze in 22.02.
Although he knew it would take a mammoth task to get on the podium, just making the final was a tremendous feat in itself for the 19-year-old Taylor, whose proud parents Gena and Lester Taylor were there to root him on in the stands.
"I felt really good about my race. I really won't take it as a loss or anything like that," he said. "I felt every race I swum was for the experience, even though I didn't win or medal. These guys I'm swimming against are veterans and technically, I'm still a rookie.
"So to make it to the final was a big, big accomplishment on my part. It was a good jump in my career.
"I felt it was a really good race. There are some things I have to work on now that I am going back home, like my start, competing under the water and my pull so I can get stronger."
Taylor said he gained a lot from his experience here and he knows he made the Bahamas proud.
He said he will go back to the drawing board and get some work done with his local coach, Travano McPhee, so that at the next Commonwealth Games, he hopes to be on the podium.
McPhee, who serves with Andy Loeitt as coach, said while they felt Taylor did an awesome job as the only member of the team to advance to a final, all of the other swimmers performed at a very high level and they should be commended aswell.
The other members were co-flag carriers during the opening ceremonies, Izaak Bastian and Lilly Higgs, brother and sister Luke-Kennedy and Zaylie-Elizabeth Thompson, Davante Carey, Katelyn Cabral and Rhanishka Gibbs, the youngest member at age 16.
"This was an awesome opportunity to be able to swim with some of the top athletes in the world," McPhee said. "They now know what they need to do to continue to progress."
The swim team will leave for London today where they will spend the day enjoying themselves before they head home on Friday.
http://www.tribune242.com/news/2022/aug/04/lamar-taylor-7th-final-50m-freestyle/?news