20-year-old swimmer breaks his own national record in the process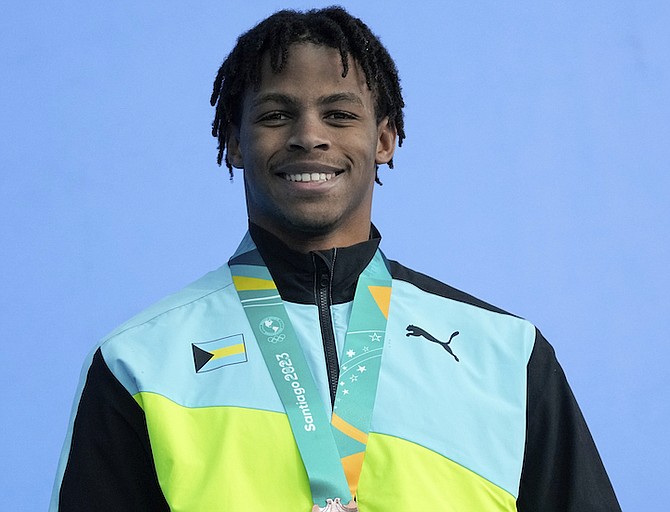 MEDAL GLORY: Lamar Taylor, of The Bahamas, poses with the bronze medal on the podium of men's 50-metres freestyle at the Pan American Games in Santiago, Chile, October 24, 2023. (AP Photo/Silvia Izquierdo)
As of Wednesday, October 25, 2023
#By TENAJH SWEETING
#Tribune Sports Reporter
#tsweeting@tribunemedia.net
#National record holder Lamar Taylor brought home the first medal for The Bahamas yesterday at the 19th Pan American Games in Santiago, Chile.
#The 20-year-old once again turned in a top performance and not only earned a bronze medal but also set a new personal best and national record in the men's 50 metres freestyle at the Centro Acuàtico in Ñuñoa, Chile.
#After Monday's performance in the men's 100m backstroke, Taylor was in top form in the pool at the Pan Am Games.
#He booked his trip to the finals when he secured one of the top three positions in the men's 50m freestyle (heat four) with a time of 22.48 seconds.
#The Henderson State University student powered his way to the wall and stopped the clock in a swift 22.13 seconds in the finals.
#The 20-year-old smashed his previous personal best and national record of 22.26 seconds achieved in July at the World Aquatics Championships in Fukuoka, Japan.
#Overall, he finished ranked third out of 16 competitors in the aquatics event.
#Thanks to the strong performance from Taylor in the short-distance event, The Bahamas has already matched their medal total from the 2019 Pan American Games with one.
#Victoria Russell also competed yesterday at the Pan Am Games. She placed sixth in the women's 50m freestyle with a time of 27.54 seconds.
#The 23-year-old ended ranked 29th out of 34 competitors in the event.Competition continues today for the swimmers.
#Emmanuel Gadson is all set for the men's 200m individual medley heats.
#Jack Barr will join him in competition today in the men's 1,500m freestyle.
#Zaylie Thompson will also perform in the women's 200m individual medley.
#The tennis sporting discipline picks back up today for doubles matchups.
#The duo of Sydney Clarke and Justin Roberts will team up against Paraguay's Leyla Britez and Martin Vergara at Centro Deportivo de Tenis.
#The Bahamas Olympic Committee (BOC) selected a 20-member team to represent the country at the Pan Am Games.
#The members are competing in six sporting disciplines – sailing, tennis, swimming, athletics, golf and wrestling. The team has nine swimmers, five track and field athletes, a trio of tennis players, one sailor, golfer and wrestler.
#Over 6,800 athletes from 41 countries are vying for a chance to qualify for the 2024 Paris Olympic Games. The event will conclude on November 5.