Lashann Higgs Will Begin Her Pro Basketball Career In Spain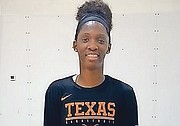 Lashann Higgs
#By RENALDO DORSETT
#Tribune Sports Reporter
#rdorsett@tribunemedia.net
#LASHANN Higgs will begin her pro basketball career in Spain.
#Higgs will join Embutidos Pajariel Bembibre PDM of the Liga Femenina Endesa, the top division of women's basketball in the country.
#The league includes 14 teams and a 26-game regular season. The top eight teams make the playoffs, while the bottom two seeds are relegated to the second division.
#Higgs described her game to Bembibre Digital as "a fast and explosive player."
#"I like to apply myself in defence, and I hope to help the team in any way," she said.
#The former Texas Longhorn added that she is eager to learn about the Spanish basketball culture.
#"I hope that the Endesa Women's League, one of the best in Europe, will give me a new experience and give me the opportunity to learn and improve my game in a different environment so that my jump to FIBA basketball is easier," she said.
#"Spain is a very beautiful place, a country in southern Europe. I'm looking forward to trying the food. I'm excited to learn more about Spain and Bembibre."
#Pepe Vazquez, head coach of the club, said he expects Higgs to provide an immediate impact with her versatility.
#"She is a very good level player. We cannot have WNBA players, but she has had a great university career. She is a very physical and explosive player. Extraordinary out in the open and on the run," he said. "She has many resources to finish in one-on-one with a good shot. I like her defensive intensity. She is versatile, a combo that can play either guard position."
#"It is a young team, eager to work, but not without talent. We have to be patient because we have a lot of work ahead. The team takes a leap in the physical plane compared to past seasons. Beyond having more height, we have more physical capacity, it is a more athletic team. You have to wait for the fans to identify with the players. Hopefully they can go to enjoy the pavilion."
#Since the NCAA basketball season came to an end in March, Higgs signed with Sports International Group (SiG). The agency represents some of the biggest names in WNBA basketball including reigning Angel McCoughtry, Candace Parker and fellow Bahamian Jonquel Jones.
#"Personally it was a big step for me and them being a well-known agency as well as representing some of the most well-known players in basketball is huge," Higgs told the Tribune.
#After going undrafted in the WNBA Draft, Higgs continued to await the next opportunity.
#"I guess everyone's path is different, but I am still trying to achieve every part of my goals and aspirations. I just have to take another path to get to the WNBA and see where it leads me," she said, "If it's the WNBA then great, but if it's not, I still have to move on with my career. I just have to be appreciative of what I have. It could have been worse, but I'm still playing basketball."
#Higgs had her fifth year and senior season cut short when the COVID-19 pandemic forced the cancellation of the NCAA women's tournament.
#"As a freshman you think this is going to take forever but then when it finally gets there it's a bittersweet moment because you want to see what else is out there for you but at the same time this is something you've been around for four years and in my case five years. I would consider it to be a very blessed moment because I got to finish what I started and I feel like that's a big moment for me personally because it's just something I'm proud of for accomplishing," she told Longhorn TV, "I would hope that my legacy is not so much to basketball, I would hope I leave one to keep fighting in any area of life and to be that light for others however that may be."
#In 28 games of her final collegiate season, including nine starts, Higgs has averaged 9.3 points and 3.5 rebounds per game. She scored a season high 19 points off the bench in a 66 – 60 win over the then No. 17 Tenesseee Volunteers, December 8 on the road in Knoxville, Tennessee.
#The Harbour Island native played in 137 games as a Longhorn with 52 as a starter. She ranked as the seventh all-time in the Longhorns' history for games played and 28th in career points scored with a total of 1,288.
#As a junior in November 2018, Higgs was diagnosed with a season-ending torn anterior cruciate ligament (ACL) in her left knee. Through three games, she was averaging 16.3 points, five rebounds and 4.3 assists per game on 56 percent shooting from the field before the season ending injury. Despite her limited time on the floor, she became the 44th player in Texas history to reach the 1000 point plateau when she scored 20 points in a 64-54 win over North Texas. In the offseason, The Big 12 approved a hardship waiver for Higgs, making her eligible to return to the Longhorns for a fifth season.
#Higgs entered her senior season projected to be one of the top players in the Big 12 conference and was named to the 10-member Preseason All-Big 12 Team. She came off a junior season where she claimed All-Big 12 Second Team, Big 12 All-Defensive Team, USWBA National Player of the Week and Big 12 Player of the Week.
#Though sidelined, Higgs received her third selection to the Academic All-Big 12 Teams. She was one of just eight student-athletes in the conference to have at least three selections.
#As a junior, she started 35 games and averaged 12.8 points per game, which ranked third on the team, 3.3 rebounds per game and was third on the squad with 1.4 steals per game. Scored in double figures on 21 occasions, including four 20-plus point performances.
#In her sophomore season, Higgs averaged eight points, three rebounds, 1.5 assists and one steal in just over 17 minutes per game.
#She built upon the numbers from her freshman season when she averaged 7.2 points, 2.9 rebounds and 1.4 steals per game in 13.2 minutes
#She came to the Longhorns heralded as the preseason Big 12 Freshman of the Year, and was consensus All-American at Cedar Ridge High School (Round Rock, Texas). She emerged as the No. 7-ranked player overall and third-ranked guard in the class of 2015, according to ESPN.com.