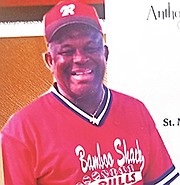 Anthony 'Poker' '24' Huyler
#By BRENT STUBBS
#Senior Sports Reporter
#bstubbs@tribunemedia.net
#The sporting community came together to pay their last respects to the late talented baseball/softball player Anthony 'Poker' '24' Huyler as he was laid to rest on Saturday at the Church of St Mary the Virgin Anglican Parish.
#Huyler, 72, was remembered as a sporting icon, who was drafted to play at the professional level, but didn't make it. He returned home and went on to excel locally where he played on several national teams and was inducted into the National Hall of Fame.
#A number of dignitaries and sporting greats showed up to play their last respect to one of the Miami Dolphins' greatest fans and a walking sporting historian. Among them were former Deputy Prime Minister Cynthia 'Mother' Pratt, former Minister of Tourism, Obie Wilchcombe and Major Leaguer Ed Armbrister.
#In and outside of the church, many softball and baseball players turned up, some wearing their team uniform tops while some adorned tops with Huyler's '24' printed on them. It was truly a great farewell for a player many came to respect as one of the greatest infielders to ever play the game.
#In an emotional address, long-time friend Ed Armbrister came to tears and had to be consoled as he talked about his relationship with Huyler.
#Armbrister, who played in the Major League during a five-year sting from 1973-1977 with the Cincinnati Reds, recalled the days when they grew up playing sports together. He also noted that when he playing professionally, his only regret that he spent more time ensuring that his career was prematurely ended like some of the other Bahamians in the minor leagued that he didn't inform the powers that be of players like Huyler, who was home.
#As close as they were, Armbrister said he was never interested in football as Huyler was and so when there were opportunities to go to the club to watch the Dolphins play or to discuss football and other sports in general, he never went with Huyler.
#Wilchcombe, the former Member of Parliament for West End and Bimini, said Huyler not only played the game at the highest level, but there was nobody who loved the Dolphins, or knew more about sports than Huyler. He said one could never win an argument with Huyler because he was that knowledgeable about all sports.
#And George Wilson, in his tribute, called Huyler a "sporting icon". He said his childhood friend was one of the mot talented players he's ever seen, but he felt he never got the credit or the accolade for his accomplishment. the Virgin. He was interred in the church's cemetery.
#The eulogy was delivered by Thed Rev'd Fr. Dwight M. bowe, Rector of The Church of St Mary
#Huyler, however, was inducted into the National Hall of Fame. Although he was drafted to play professional baseball, he never made it. But he returned home and made his presence felt in every league in softball and baseball during the 1960s to the 1980s.
#As a talented first baseman, who could hit the ball, Huyler also went on to represent the Bahamas at various international competition, including the Central American and Caribbean Games where the Bahamas won the gold in 1977.
#Additionally, Huyler played on the national teams that played in Wichita, Kansas in 1967, 1968 and 1969 and at the Pan American Games in San Juan, Puerto Rico in 1979.
#Huyler left to mourn his wife Annalee; children Antonasio 'Timmy' Huyler and Rashad Symonette; his father Basil T. Huyler Sr and a host of other relatives and friends.