As of Friday, October 21, 2022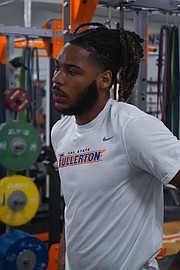 LATHANIEL BASTIAN
#By RENALDO DORSETT
#Tribune Sports Reporter
#rdorsett@tribunemedia.net
#THE Big West Conference hosted its media day this week and Lathaniel "Tanny" Bastian's Cal State Fullerton Titans found out where the conference projects his programme to finish in the upcoming season.
#The defending conference champion Titans came in at no.7 on the preseason men's basketball coaches' poll. Titans head coach Dedrique Taylor will enter his 10th year at the helm of the programme and Bastian is expected to be an integral part of a talented group of seven newcomers to replace the six players lost from last year's roster.
#Bastian's first opportunity in a Titan uniform will be on Saturday, October 29 at Titan Gym for an exhibition game against La Verne at noon. Fullerton opens up the season on the road against San Diego State on November 7.
#The team's first home game will be November 11 against Pepperdine.
#"We're excited to use these games to grow and develop our team," Taylor said.
#"I'm looking forward to the challenge of these games to help us prepare for making another run at winning the Big West Conference Championship and playing in the NCAA tournament!"
#Cal State Fullerton finished with a 21-11 overall record and an 11-4 record in conference play last season. They were the champion of the Big West Conference Tournament and earned a No. 15 seed in the NCAA Tournament.
#The programme also has a Big West Tournament Championship and NCAA Tournament appearance in 2018. Bastian, the 6'8" junior forward and transfer from the Angelo State Rams, chose the Titans over Charleston, Minnesota State Moorhead, Grenville State, Fort Lewis, Benedict College and Texas at Tyler.
#In his lone season with the Rams in NCAA Division II, Bastian was a Lone Star Conference Honorable Mention selection. He led the Rams in rebounding and blocked shots, averaging 7.8 boards and 1.4 blocks per game.
#He pulled down 219 rebounds, 90 on the offensive glass. He averaged 11.3 points per game on 61 percent shooting from the field. Bastian recorded nine double doubles on the year.
#He scored a season high 23 points against Western New Mexico on February 3, also his best shooting night at 8-12 from the field.
#His other season highs included 16 rebounds against West Texas A&M on March 3, four blocks against Northwest Nazarene on November 19, and four steals against Fort Lewis on November 14.
#Bastian spent the previous two seasons with the Trinity Valley Community College Cardinals at the Junior College level.
#As a sophomore with the Cardinals he averaged 5.9 points and 6.8 rebounds per game.
#He also finished with 19 blocks, 11 steals and 14 assists on 53 percent shooting from the field.
#Bastian is a product of the Doris Johnson Mystic Marlins programme at the high-school level before continuing collegiately in the United States.
http://www.tribune242.com/news/2022/oct/21/lathaniel-tanny-bastian-and-titans-projected-finis/?news