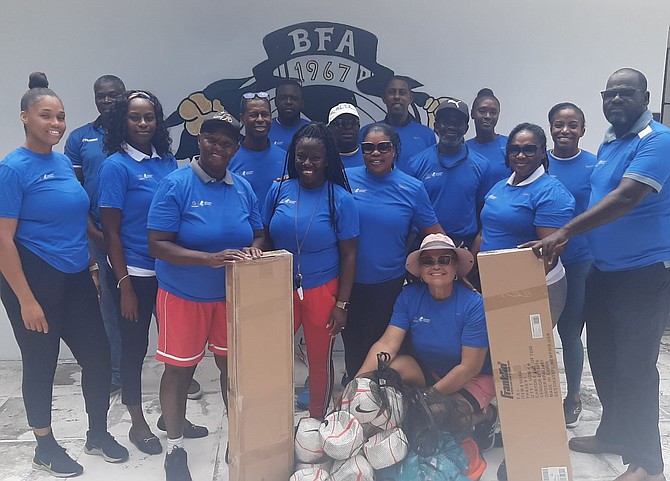 The Bahamas Football Association representative smake a presentation of soccer equipment ot primary school teachers.
As of Monday, September 25, 2023
#By BRENT STUBBS
#Senior Sports Reporter
#bstubbs@tribunemedia.net
#LATOYA Sturrup has been returned as the president of the New Providence Public Primary Schools Sports Association.
#During the elections held on Friday at Claridge Primary where she's a physical education teacher, Sturrup went in unopposed to serve for the next two years with a board that includes some returning members and new officers.
#And she feels the board will help to push their sporting programme further.
#Elected as the vice president is Naaman Lightbourne of Cleveland Eneas, Shekera Munroe of Ridgeland as secretary, assisted by Michaela Capron of Sadie Curtis, Denise Miller of Carlton E Francis as treasurer assisted by Vanessa Swaby of Sybil Strachan, Francheshka McBridge of Sadie Curtis as public relations of cer, Theodore Neely Gerald Cash as chaplin, assisted by Mariska Thompson of Cleveland Eneas and Vashon Armbrister of Sandilands Primary as sergeant-at-arms.
#Sturrup and her previous administrative team came in just before the COVID-19 pandemic in 2020.
#They had completed basketball but in March all sporting in the country came to a halt.
#During the rest of their tenure, the executives spent time providing breakfast and food items to the community.
#Now that all sporting activities are back in swing, Sturrup said they are getting ready to get back to work as they resume their sporting competition, which should start in October with soccer as they once again collaborate with the Bahamas Football Association.
#"It took a team effort to get us to do the things that we did," said Sturrup, as she praised those members of the executive team who didn't seek another term.
#"All the things we did, we did together as a team."
#With the new executive board, Sturrup said there are a number of physical education teachers who have been teaching for less than ve years, who have stepped forward to get their feet wet in administration.
#"I think we are really going to do more things than what we did the last two years," she pointed out. "We were in the community giving breakfast and clothing, but what we want to do this year is more clean up campaigns. We just did a clean up campaign last week in the Golden Isles constituency. We worked with the Coastal Clean Up Sturrup said the Campaign. We partnered NPPPSSA will continue to with Blue Lagoon. We did make its present felt as one that last week Saturday on Coral Harbour Beach."
#Sturrup said the NPPPSSA will continue to make its presence felt as one of the more vibrant sporting bodies in the country.