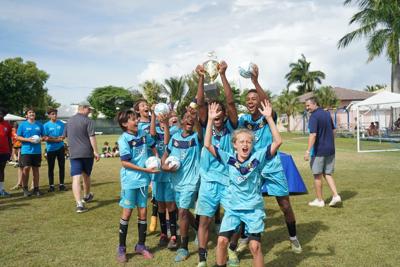 Lyford Cay International School (LCIS) hosted its 10th KPMG Football Fest on Thursday, November 2 through Sunday, November 5.
Taking part in this U14 tournament were teams from Cedar International School (British Virgin Islands), American International School of Kingston (Jamaica), Codrington School (Barbados), Cayman International School (Cayman Islands), Lucaya International School (Grand Bahama), St. Andrew's International School, Windsor School and Lyford Cay International School.
"It was great to have such a large turnout of local and international teams. There are players and teams who return every year because of the high level of competition, as well as the hospitality of our community. All visiting students and coaches were hosted by LCIS families, highlighting the deep community involvement and intercultural connection that goes into making this event a success," Massey said.
The competition culminated on Saturday afternoon with teams competing for four sets of finals: Bowl, Plate, Shield, and Championship.
The Championship Final for the girls featured the home team LCIS Dragons (Yellow Team) against Cayman International School. Cayman always brings a strong and experienced team and were worthy winners 2-0 in the final. The Boys' Championship Final was an epic affair with LCIS Boys (Blue Team) versus Cayman International Boys. Cayman took the lead early in the second half and with time running out, it looked like a clean sweep for CIS. However, the Dragons scored two goals in three minutes to clinch an exhilarating final.
With the very sad and sudden passing of LCIS Principal Dr. David Mindorff, the tournament had more significance.
"Events such as the KPMG Football Fest exemplify the truly transformative experiences we provide here at LCIS. We seek to create opportunities for our students to become more highly-skilled athletes as well as internationally-minded, global citizens," Dr. Mindorff had previously stated.
Incredible support was provided by KPMG Bahamas, which has served as the event's main sponsor since its inception. OMG Bakery, Bahamas Wholesale Agencies, Menchie's and Thompson Trading also contributed to the event, providing lunches, snacks and drinks throughout the weekend for athletes and coaches alike.
LCIS host families make the tournament possible by opening their homes and hearts to over 70 students and coaches from across the Caribbean, enriching the experience for all involved.