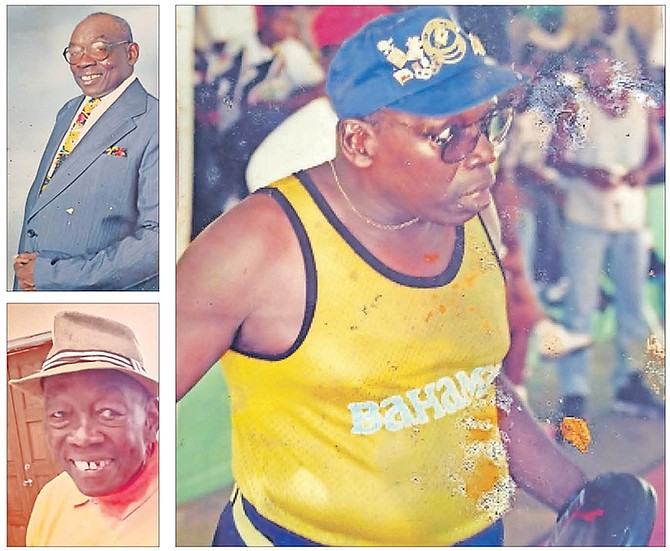 Bahamas National Hall of Famer Leonard 'Boston Blackie' Miller passed away on Sunday.
#By BRENT STUBBS
#Senior Sports Reporter
#bstubbs@tribunemedia.net
#Father's Day was a somber one for the family of Bahamas National Hall of Famer Leonard 'Boston Blackie' Miller and the Bahamas Boxing Federation fraternity as one of the country's most versatile athletes/coaches passed away.
#Miller, who would have celebrated his 83rd birthday on July 20, died shortly after 2pm yesterday at the Princess Margaret Hospital after developing a heart problem.
#He leaves behind his children, Charles, Maria Miller-Jenoure, Latoya Stuart, Flossie Cooper, Theresa Williams, Claudia and Ricardo Miller and a host of relatives.
#Minerva Miller-Green, who was named after her grandmother Minerva Miller, who passed away on November 25, 2019, called on the Bahamas Government to finally give her grandfather the accolades he rightfully deserves posthumously, even though he was inducted into the Ministry of Youth, Sports and Culture's Class of 2003 for the Bahamas National Hall of Fame for his contribution to boxing and cycling.
#"He was an energetic, funny, charismatic person, who was always helping people. He was very sociable, even up until his death," Miller-Green said. "He still was in love with his days as a boxer, his cycling days and his coaching services that he gave.
#"I personally feel that he didn't get the amount of recognition that he deserved. I would love for someone in government to at least look at him and posthumously give him what he deserves for all of the service that he gave to the country."
#As a child, Miller-Green said she clearly remembers the days accompanying her grandfather to many sporting events, even at the Boys Industrial School, now the Simpson Penn School for Boys, where she saw Miller providing his service or dipping into his pocket to assist those in need.
#"When he got ill, the people left," she said. "Even before he died, we were trying to get the powers that be to give him his honours while he could appreciate it.
#"I was trying to get him some recognition for the work that he did for others and the nation at large. He won many awards for the Bahamas, representing the country all around the world in different areas of sports."
#While he made his mark as a former boxer and coach, Miller's legacy extended to cycling. He was also a very long time physical education teacher at the Government High and CC Sweeting High School, the latter where he operated his Bahamas Youth Boxing Club out of the campus. He was also a reserve policeman.
#Former Bahamas Olympic Committee president Wellington Miller remembered his long-time friend as the G.O.A.T. – the greatest of all time – for the impact he made in sports and as a community activist.
#"To me, Boston was the GOAT of Bahamian sports because he did so many sports and he excelled in so many of them," said Miller, who first started working with Boston Blackie in 1979 as an assistant coach on the Pan Am Games in Puerto Rico.
#"Some of my greatest memories of Boston came in 1983 when we were taking a boxing team to the Pan Am Games and the association didn't have the money. Boston told me to pick him up the next morning and I took him to an insurance company and he cashed in his life insurance to make sure that the boxers traveled."
#Miller said he was amazed, but 'Boston Blackie' told him emphatically that the boxers had to go.
#Another memorable occasion for Miller came when 'Boston Blackie' fought and lost to Ernie 'the Androsian Tiger' Barr. It was 'Boston Blackie's last fight, but he asked Miller to prepare him in the dressing room.
#"When he came out of the ring, he allowed me to undress him again," Miller said. "I was so proud to be there for him. We became close friends ever since. He was such a great person. He never held anything back."
#And in 1984, Miller said he remembered when the BOC wanted to send somebody off to a solidarity course and he told Miller that he should go because he would need the experience more than him.
#Miller said 'Boston Blackie' was also a very good story teller and he could relate what happened to him over the years. One of the stories Miller said he remembers when 'Boston Blackie' told him how he won the Caribbean Cycling Championship title and he stayed with the Mighty Sparrow of Trinidad & Tobago.
#As a PE teacher, who sat his course at the College of the Bahamas (now the University of the Bahamas after it was discovered that he didn't have the credentials when he was first hired), Miller said he remembers how 'Boston Blackie' disciplined a student.
#The story was told by 'Boston Blackie' that the student went home and told his father. The irate father came to the school the next day and when he discovered who had disciplined his child, the parent asked the child if he knew who the teacher was?
#"The parent told Boston that if I knew it was you who beat me child, I would have told you to whip him again," Miller said. "That was the kind of respect that persons in the community had for Boston.
#"Boxing was his legacy, but he made his mark in cycling and as a jockey in horse racing. But he never got the credit that was due him. He should have been honored by the government for his contribution to sports and the community in a more tangible way."
#Bahamas Boxing Federation president Vincent Strachan led a chorus of condolences sent out to Miller, who was also a founding member of the Caribbean Amateur Boxing Association in 1986.
#"On this Father's Day, we are saddened of the passing of one of the greatest sporting icons in the Bahamas, long-time light and heavyweight champion and cycling champion Leonard 'Boston Blackie' Miller, who passed away today," Strachan wrote. "We missed him very much."
#Quincy 'Thrill-A-Minute' Pratt, a contender for the Bahamas lightweight title, said Miller was the first coach to put a pair of boxing gloves on his hands in 1983.
#Marvin 'Marvelous' Smith, a former Bahamian super middleweight champion, called for the customary ten bell salute in honor of the memory of the late Miller.
#Freeman 'the Natural' Barr, the former World Boxing Organization's NABO super middleweight champion, considered Miller a friend, who taught him a lot of stuff in boxing as well.
#"We're going to miss him. R.I.P," Barr wrote.
#Olympian Shonel Ferguson, now the Member of Parliament for Fox Hill, said she remembered as a budding track and field athlete who went on to win the 1982 Commonwealth Games' gold medal in the long jump in Brisbane, Australia, remembered how 'Boston Blackie' first impacted her life when he competing as a cyclist.
#"As a child growing up on Adderley Street, I remember Boston Blackie and other contestants speeding past Johnson Road as they contested the round the Island cycling road races," she reflected.
#"We were so proud of him and loudly cheered him on. We knew him first as a cyclist then later as a boxer. He was our hero."
#Ferguson said she was delighted when Anatol Rogers High School bestowed the singular honour of naming the school's houses after Knowles House for the late Sir Durward Knowles, Ford House for the late Wenty Ford, Ferguson House for herself and Miller House for Leonard "Boston Blackie" Miller.
#"It was wonderful that he received this accolade while he was able to enjoy the honour," she stated., "May the soul of this very special human being, exceptional athlete and patriotic Bahamian rest in peace and rise in glory."
#After his days of competing in sports, Miller traveled extensively as a coach and medical trainer for a number of national teams. He will be sorely missed for his contributions.