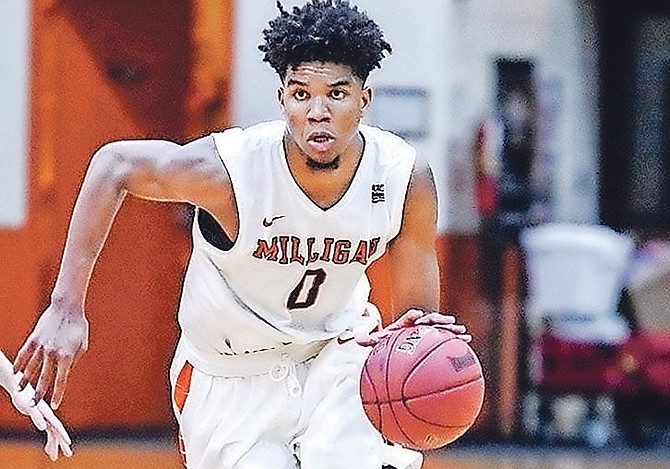 AARON Levarity
#By RENALDO DORSETT
#Tribune Sports Reporter
#rdorsett@tribunemedia.net
#AARON Levarity will make the transition to professional basketball in Denmark for the upcoming season.
#Levarity signed with the Svendborg Rabbits of the Basketligaen, the highest level in the country.
#The Grand Bahama native played collegiately at Milligan College in the NAIA where he became the team's leading scorer and rebounder in his final two seasons under head coach Bill Robinson.
#The Bishop Michael Eldon graduate, who later attended the University of the Bahamas, became the Appalachian Athletic Conference leading scorer with 19.1 points per game, top rebounder with 12.5 rebounds per game and top shot blocker with 1.47 blocks per game in his senior season.
#His field goal percentage ranked seventh in NAIA Division II. He also ranked within the top 10 in four other categories, including both defensive and offensive rebounds per game.
#In his first season with the Buffaloes, Levarity averaged just 5.5 points and 4.3 rebounds per game. Those numbers rose to 16.9 points and 12.3 rebounds per game before his career high numbers in year three. "Aaron's development on the court in three years has been remarkable. He averaged less than six points a game as a sophomore and became the best player in our league," Robinson told The Tribune.
#"He is incredibly motivated both on and off the court. His team-mates love him because despite all the success, he is a caring and humble person. It has been a privilege to coach Aaron."
#Levarity was named the Appalachian Athletic Conference men's basketball player of the week for the second time this year and the fifth for his career.
#The Rabbits are based in Svendborg, Denmark. The team won gold in the best Danish basketball league in the 2009–10 season, silver in the 2006–07, 2007–08, 2008–09, 2010/11, 2011/12 and 2012/13 seasons. They won gold in the Danish Cup tournament in 2007, 2011 and 2013. And they competed in the 2008–09 FIBA EuroChallenge.