Men's marathon slugfest highlights Bahamas Games softball title games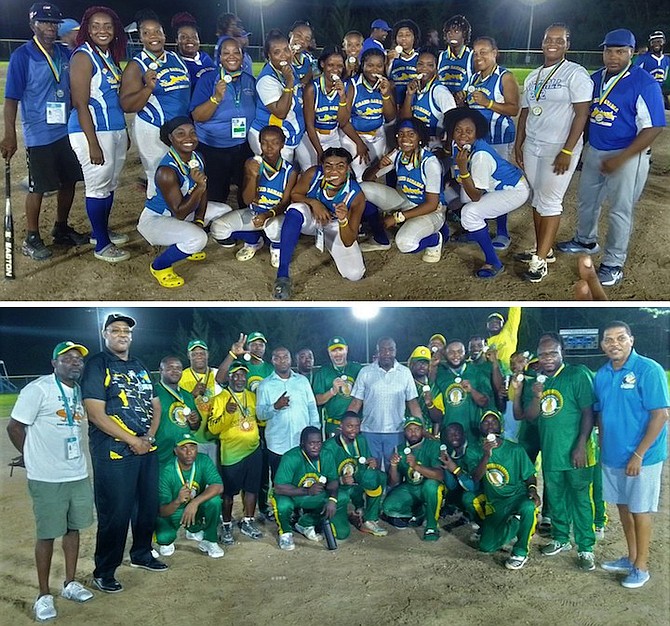 TOP: Grand Bahama Lucayans women softball gold medallists. ABOVE: Eleuthera Adventurers men's softball gold medallists of the 6th Bahamas Games.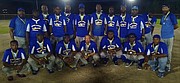 Grand Bahama Lucayans men softball silver medallists.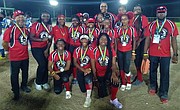 New Providence Buccaneers women softball silver medallists.
MICAL women softball bronze medallists.
Long Island men softball bronze medallists.
#By BRENT STUBBS
#Senior Sports Reporter
#bstubbs@tribunemedia.net
#WHILE the ladies' three-hour affair for the 6th Bahamas Games softball gold medal was won by the grit and determination of a 13-year-old, the men's marathon slugfest was secured on the strength and power of six home runs.
#The Grand Bahama Lucayans, behind high school pitcher LeBrea Sands, nipped the New Providence Buccaneers 9-8 in a long-time rivalry to claim the ladies' gold medal late Saturday night at the Bankers Softball Park.
#But even after that long and drawn out contest was completed, the Baillou Hills Sporting Complex remained filled to capacity as the Eleuthera Adventurers pounded the Lucayans 21-15 in the final game of the men's games that ended shortly before midnight.
#Lucayans 21,
#Adventurers 15
#With the closing ceremonies complete, Eleuthera added one final gold to their tally as they rode a pair of long balls out of the park from left fielder Terran Wood and one each from centrefielder Sheldon Neymour, designated hitter/relief pitcher Norman Bastian, catcher Jeff Bethel and shortstop Gee Bethel.
#Gee Bethel blasted a grand slam homer to start an avalanche in s nine-run sixth inning that was followed by a solo blast from Neymour. a two-run shot from Wood and another two-run dinger from Bastian to push Eleuthera's lead to 20-7.
#"Everyone was excited to just smash whoever was on the mound and did just that," Gee Bethel said. "We were pretty confident coming into the tournament and we just did what we intended to do."
#But as officials had to call in the Royal Bahamas Defence and Police Forces to prevent the fans from rushing back on the field to celebrate, Grand Bahama made a dent in the lead, trimming it to 20-13 in the bottom of the frame.
#"I can't say anything but good things about my team. In the scale of things, we were not supposed to be here," said Grand Bahama's manager Brandon Jones. "We came down, got silver. We wanted gold, but we will take it."
#Sheldon Pinder, playing in his major national event, got the win. Although he struggled a bit and had to be relieved for an inning by Norman Bastian in the sixth, he said he was thrilled to be a gold medallist.
#"I came a long way with plenty of sore muscles, but I was confident that my team was going to hit the ball," Pinder said. "I tried my best to hold them down. I wasn't ready to take a break. I missed a pitch and they got a home run. But it's all good. I've never won anything like this, so I'm pretty happy."
#Quinton Cooper was tagged with the loss, despite getting some help in relief from Michael Sweeting and Darren Mortimer in the fifth and sixth respectively.
#Lucayans 9,
#Buccaneers 8
#Adonia Rolle, pinch running from lead off hitter, Jasmine Scavalla, scored the game's winning run with the bases loaded in the bottom of the seventh on a fielder's choice to break an 8-8 tie and seal the gold for the Grand Bahama women.
#Scavalla ended up going 1-for-2 with a run scored, Tamika Davis had three RBI and scored a run, Larikah Russell went 1-for-2 with a RBI and run scored and Kenya Forbes was 2-for-3 with a run scored.
#Skai Albury was 2-for-3 with two RBI and two runs scored and Ataya Fowler was 1-for-3 with two runs scored for New Providence.
#LaBrea Sands gave up four hits, struck out nine and walked eight for the win.
#"I feel really good. I worked so hard just to get here to help Grand Bahama," said Sands, who will be going into grade eight in high school in Florida.
#"It was amazing. When we went down, I was losing my patience, but I just had to put it in God's hands. We had a great team and great bats, so I just had to throw the ball. It's just amazing to win it. I'm going to go to the movies to celebrate."
#Thela Johnson got the loss on five hits, six walks and six strikeouts, although Ramona Hanna came in to relieve her in the fifth. Johnson came back to pinch hit in the seventh and completed the game
#Grand Bahama, who opened with 2-1 lead in the bottom of the first inning, went up 8-3 in the bottom of the fifth, but New Providence came back with three in the sixth and two in the seventh to tie the score and take the game down to the wire.
#"I want to thank Jehovah for allowing us to reach this far. Unfortunately we came out on the short end of the stick," said Darren Stevens, who managed the New Providence women's team.
#"The girls fought right to the end, but we faced a young pitcher from Grand Bahama, who pitched well. We just came up on the short end of the stick. We had one or two opportunities where we ran ourselves out of scoring positions and it hurt us in the long run."
#Sheep Runners 17,
#Buccaneers 2
#Dante Cartwright belted a grand slam home run and Jeiter Miller exploded for a pair of homers as Long Island routed the New Providence men to claim the bronze medal.
#Cartwright, playing left field, had a perfect 4-for-4 day with five RBI and two runs scored, while Miller was 3-for-3 with five RBI and three runs scored. The duo took advantage of New Providence's decision to walk catcher Garfield Bethel.
#"I didn't expect them to walk me as much as they did," said Bethel, who played with some of the guys from New Providence. "I expected one or two times depending on the situation on the field. It was kind of disappointing from a hitter's perspective."
#While they contained Bethel, the Buccaneers couldn't slow down Miller, who had a solo homer in the fourth for a 3-2 lead for the Sheep Runners.
#Cartwright then hit a grand slam and Keano Cartwright added a two-run homer in the seven-run fifth to push their lead to 10-2.
#The Sheep Runners added seven more runs in the sixth, highlighted by Miller's two-homers.
#Thomas Davis got the win and Dion Wood suffered the loss.
#Aaron Wood was 3-for-3 with a RBI and Stephen Russell was 1-for-3 with a RBI and a run scored to lead New Providence. Austin Hanna was 1-for-3 with a run scored.
#Flamingos 11,
#Chickcharnies 2
#Ruthann Simms went 1-for-2 with an RBI and scored a run and was joined by Alouionee Hall and Tyler Miller, who both went 1-for-2 with two runs scored to help MICAL secure the women's bronze medal.
#"MICAL feels good. Everybody counted us out, but we did it," said Renee 'Sunshine' Davis, a member of the Games Secretariat, who managed the MICAL ladies' softball team.
#Brendia Ferguson was the winning pitcher on a three-hitter with five strikeouts and Chailyn Thompson got tagged with the loss on four hits with five strikeouts as well.
#Andros had to settle for fourth place.
#Playoffs Friday
#Lucayans 11, Chickcharnies 8: Kenya Ferguson was a perfect 2-for-2 with an RBI and two runs scored to pace Grand Bahama ladies to victory as they advanced to the gold medal game.
#Morrell Wildgoose was the winning pitcher and Tishura Evans was tagged with the loss for Andros, who dropped to the bronze medal game.
#Adventurers 6, Sheep Runners 4: Shaquille Delancy was 1-for-1 with two RBI and a run scored and Terran Wood was 1-for-2 with a RBI and a run scored as Eleuthera won their men's game to earn their berth into the gold medal game.
#Sheldon Pinder was the winning pitcher and Pedro Marcello got the loss for Long Island, who ended up in the bronze game..
#Buccaneers 5, Sheep Runners 0: Apryl Davis went 1-for-1 with two RBI and a run scored and Thela Johnson was 1-for-1 with a RBI and a run scored to lead New Providence ladies into the gold medal game.
#Johnson helped her own cause for the win, while Brendia Ferguson was tagged with the loss for MICAL as they fell into the bronze medal game.