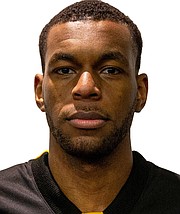 WILLIS Mackey Jr
#By RENALDO DORSETT
#Tribune Sports Reporter
#rdorsett@tribunemedia.net
#FRENCH Nationale Masculine 1 League club CTC LYONSO Basket Territoire will now have two Bahamians on their roster for the 2022 campaign.
#The club announced the signing of Willis Mackey Jr as a medical transfer for the next three months. He joins Aaron Levarity, who signed with LYONSO in August.
#"His arrival will compensate for the prolonged absence of our American interior Michael Craion," the club said of Mackey's signing. "It is therefore a high quality reinforcement that joins Team LYONSO for the next few months."
#Mackey spent last season with another NM1 club, Mulhouse Basket Agglomeration.
#In 33 games, the fourth year 6'7" forward averaged 11.1 points and 5.9 rebounds per game on 62 percent shooting from the field and 39 percent from three-point range. Mackey spent the previous season with JSA Bordeaux Métropole Basket as the team struggled to a 7-19 record, 13th place in Group A. In 16 games he averaged 13.2 points, 6.3 rebounds, 1.2 assists and 1.1 steals per game.
#Levarity will enter the third season of his professional career. He spent his last two seasons with the Svendborg Rabbits of the Basketligaen, the highest level of basketball in Denmark.
#Last season he averaged 14.9 points and 11 rebounds per game in 36 contests. He also averaged 2.1 assists and 1.1 steals per game. In his first season with the Rabbits, Levarity averaged 12 points and 5.5 rebounds per game with the club. "LYONSO is happy to announce the arrival of Aaron Levarity within the club. This powerful and scoring 4-5 position comes from Svendborg Rabbits, a Danish first division club, and reinforces Maxence Broyer's squad," the organisation said in a press release.
#"The whole Team LYONSO welcomes Aaron and can't wait to see him in action on the Canopée floor."
#LYONSO will face Mackey's former club, Mulhouse, tonight as they look to improve to 2-1.