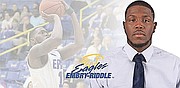 NASHAD Mackey
#By RENALDO DORSETT
#Tribune Sports Reporter
#rdorsett@tribunemedia.net
#NASHAD Mackey will return to the Embry-Riddle Eagles men's basketball programme, but will transition to the sidelines in a new role as a member of the coaching staff.
#Mackey will re-join the team this fall as a graduate assistant coach.
#"I'm very thankful for the opportunity to be back in the Embry-Riddle environment, surrounded by all these amazing people, the staff and this wonderful group of guys," Mackey said in a statement to ERAU Athletics. "I am truly grateful to be an Eagle again and work side-by-side with a talented coaching staff and do big things for this university."
#The Eagles are coming off their best NCAA II season in 2019-20, finishing 20-10 overall while earning a berth to the NCAA National Tournament before the season prematurely ended due to the COVID-19 pandemic.
#Mackey concluded his collegiate basketball playing career as one of the programme's all-time leaders.
#In his two-year run with the Eagles, he was a two-time Sunshine State Conference All-Conference performer.
#He registered 39 double-doubles in 50 career games in an Eagle uniform, averaging 17.2 points, 12.2 rebounds, 2.0 assists and 1.1 blocks per game – the only Eagle to average a double-double for his Embry-Riddle career.
#Mackey's scoring average ranks fourth all-time in Eagle history, while his 12.2 boards per outing is easily the top mark in 31 seasons of ERAU basketball. His career totals also include second all-time in free throw percentage (.870) and eighth in blocked shot average (1.1). "We are extremely excited to add one of our all-time great players in Nashad to our coaching staff. From the very first day he committed to our university and basketball programme, Nashad earned the utmost respect and trust from his coaches and teammates in his leadership ability at the very highest level."
#Head Coach Steve Ridder said to ERAU Athletics: "Nashad is a born leader who has a tremendously high basketball IQ, relentless work ethic, discipline, great communication skills and a burning desire to impact other people's lives as a servant-leader. He is a tremendous example of what Embry-Riddle University, and specifically our athletic programme, is all about. I know he is both passionate and grateful to have this opportunity for him, his wife Simone and their children Noah and Malayah."
#As a junior, Mackey produced a number of career milestones and postseason awards. He was named to the All-Conference second team as well as the All-Newcomer team when the Sunshine State Conference office announced the 2017-18 men's basketball postseason awards.
#Mackey made school history when he became the first Eagles player to earn an All-Conference selection. He had an immediate impact on the programme as they transitioned to NCAA Division II with his record-breaking junior season.
#He averaged 17.3 points and 12.5 rebounds per game, both team leads. In 28 starts, he also set a new single-season double-doubles record with 23 on the year and ended the season with 13 such consecutive games. He posted a total of 350 rebounds, another school record, ranked second in NCAA Division II.
#Mackey transferred to the Eagles and NCAA Division II level after he posted stellar individual numbers and garnered postseason awards at the JuCo level. During his stint with the Daytona State College Falcons, he was named the Mid-Florida Conference Player of the Year and was also named First team All-State in the conference as a sophomore.