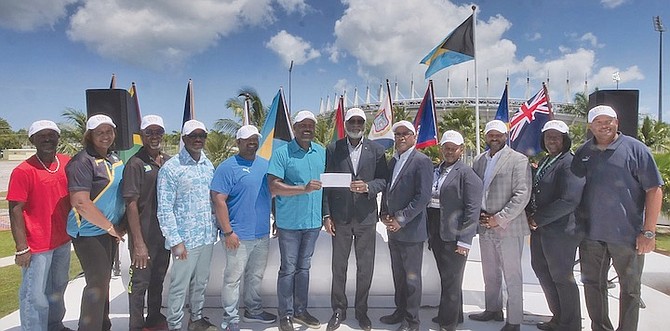 Members of the Local Organising Committee (LOC) and Bahamas Association of Athletic Associations (BAAA) at yesterday's press conference for the announcement of the 80-member team for the CARIFTA Games.
As of Wednesday, March 29, 2023
#By TENAJH SWEETING
#tsweeting@tribunemedia.net
#The Bahamas Association of Athletic Associations (BAAA) announced an 80-member CARIFTA team for the first time in history yesterday at Thomas A. Robinson National Stadium.
#After a highly competitive CARIFTA trials combined with the Bahamas National High School Track and Field championships this past weekend, many were anticipating the announcement of Team Bahamas' CARIFTA athletes.
#This year's CARIFTA team will not only feature 80 members for the first time in Bahamian history but will also include the largest contingent of Family Island representatives.
#Drumeco Archer, president of the BAAA, said the selection process is always emotional and tension-filled as athletes always want to represent their country at the CARIFTA Games.
#He added that the selection process wrapped up at 3am yesterday after the executive committee spent hours going through the names and stats, not only locally but throughout the region.
#Although the selection process was difficult within good reason, officials are confident that this year's CARIFTA team will bring home gold at the country's 50th CARIFTA Games.
#Team Bahamas' under 17 girls will include Jamiah Nabbie, Shayann Demeritte, Darvinique Dean, Tamia Taylor, Akaree Roberts, Bayli Major, Erin Barr, Madison Moss, Grace Komolafe, Tylah Pratt, Zoe Adderley, Terrell McCoy, Danielle Nixon, Kennise Scavella, Kamera Strachan, and Dior-Rae Scott.
#The under 17 boys will feature Andrew Brown, Ishmael Rolle, Cayden Smith, Eagan Neely, Zion Shepherd, Tyrone Conliffe, Zion Hendfield, Ross Martin, Christopher Williams-Martin, Kenny Moxey Jr., Quinton Rolle, Zion Davis, Joshua Williams, Erris Pratt, Demian Brice II, Rubin Bain, Jalen Stuart, and Larouche Morley. The relay pool will include Javano Bridgewater, and Trent Ford.
#Notably missing from this year's under 17 girls team is Bishop Michael Eldon's Keyezra Thomas, who dominated her competitors in the under 14 girls 100m and 200m race.
#Despite the 13-year-old being dominant on the track, she is too young to compete at April's 50th CARIFTA Games but will look to qualify in 2024.
#With a number of officials being impressed with her efforts as a young athlete, Archer said although it can hurt athletes to miss out on the CARIFTA Games, they always come back more aggressively the next time by using it as a motivation to get onto the team the next time around. The 2023 Team Bahamas under 20 girls are Shatalya Dorsett, Amari Pratt, Lacarthea Cooper, Javonya Valcourt, Treasure Burrows, Jasmine Mackey, Akaya Lightbourne, Koi Adderley, Apryl Adderley, Lanaisha Lubin, Annae Mackey, Calea Jackson, Cailyn Johnson, G'Shan Brown, Vanessa Sawyer, and Essence Sands. The relay pool has Quincy Penn, Nya Wright, and Melvinique Gibson.
#The under 20 boys are Carlos Brown, Adam Musgrove, Zachary Evans, Clinton Laguerre, Philip Gray, Raywind Winder, Christopher Saintus, Otto Laing, Tayshaun Robinson, Shimar Bain, Mateo Smith, Johnathan Rodgers, Laquan Ellis, Robert Deal, Nathaniel McCardy, Kaden Cartwright, Brenden Vanderpool, Tyler Cash, Lavardo Deveaux, and Reanno Todd. The under 20 boys relay pool will include Johnathan Fowler, Zion Campbell, Berkley Munnings, Tumani Skinner, and Jeremiah Adderley.
#Team Bahamas' 2023 CARIFTA team will be under the supervision of eight coaches, three managers, and five chaperons. Team managers are Pharez Cooper, Mildred Adderley, and Sophia Higgs. Head coach of the team will be John Ingraham. He will be assisted by Noel Pratt, Earl Rahming, Rachante Colebrooke, Patricia Rolle, Keno Demeritte, Andrew Tynes, and Alexis Roberts.
#Although 80 athletes may seem like a lot to handle, team leader Pharez Cooper talked about the plan to manage athletes for Oaktree Medical Center's 50th CARIFTA games.
#"We have coaches for jumps, sprints, hurdles [and] whatever discipline that the athletes are apart of," Cooper said.
#He added that the coaches will be directly responsible for those athletes during the day of at the track and that chaperons were strategically picked with the mindsets of having to manage a large team due to their experience with other teams.
#With the 50th edition of April's CARIFTA games now eight days away athletes will prep to stay at the CARIFTA village at Superclub Breezes on April 6.
#This year's game will feature more than 600 athletes from 28 countries competing on April 7-10.
http://www.tribune242.com/news/2023/mar/29/bahamas-2023-carifta-team-announced/