As of Wednesday, February 1, 2023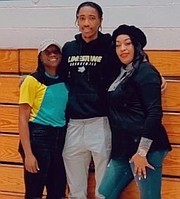 GREGORY McKay poses with his cousin Alancha Thompdon (left) and his mother Anishka Taylor (right), who celebrated her birthday on Tuesday.
#By BRENT STUBBS
#Senior Sports Reporter
#bstubbs@tribunemedia.net
#AFTER winning their last two games, Gregory McKay feels like his Limestone University Saints men's basketball team is starting to turn things around heading into the playoffs.
#The Saints pulled off a 102-78 victory over Carolina on Wednesday, January 25 at home in the Timken Center and they followed that with a 69-59 decision over Tusculum on Saturday on the road in Greeneville, Tennessee to improve their win-loss record to 9-11.
#In their win against Carolina, McKay posted a double-double with 15 points and 14 rebounds. He also had seven assists and a pair of steals and blocked shot.
#On Saturday, the 6-foot, 6-inch, 195-pound forward had 11 points with four rebounds and a block.
#"In both of those games, I felt I contributed very well. I did what my coaches told me to do," McKay said.
#"But I think we all, as a team, did our part to come out with the win."
#The Saints, coached by Kyle Perry, will be back in action tonight when they take on Lenoir-Rhyne at 7:30pm in Hickory, South Carolina before they face Coker on Saturday at home in Timken Center.
#"So far, it's been an up and down season, but I'm just trying to control what I can control and I am allowing God to take care of the rest," he pointed out. "But I'm in the gym every day trying to get better. "We only have a couple of games left, so hopefully we can figure it all out and make a final run to get into the playoffs. We definitely should have had more wins. We let a couple of games slip away from us, but hopefully we can turn things around and get us into the playoffs."
#In addition to the pair of games on tap this week, the Saints have six more games to conclude the regular season that will climax with their senior boys on February 25 when they host Wingate at home.
#"Obviously from here on in, we just need to take care of the wins," McKay said. "We just need to come up with some big wins on the road and take care of home and we should be good."
#The Saints, hopefully, will get a shot at the South Atlantic Conference Tournament (SAC) at the culmination of the season.
#The 21-year-old McKay, majoring in business administration/general business, wished his mother Aniskha Taylor a happy birthday on Tuesday.
#He said he was delighted that she came to watch him play a couple of games.
#McKay said he would like nothing better than to give her a present with two more victories this week.
#"I just want to thank my family for the continuous support," said McKay, who previously attended HO Nash before he left for the United States to attend Piper High School. There, he was named to the All-Star Broward County during his senior campaign.
http://www.tribune242.com/news/2023/feb/01/mckay-pleased-saints-progress/?news