McPhee-McCuin and Ole Miss Rebels stun Stanford, reach first Sweet 16 in 16 years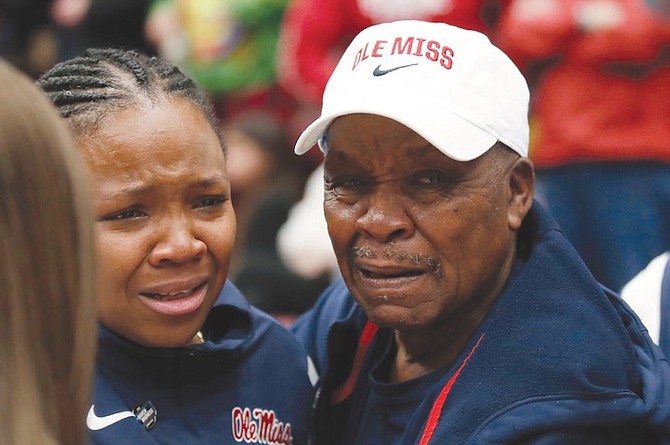 MISSISSIPPI head coach Yolett McPhee-McCuin gets emotional with her dad Gladstone McPhee, right, after winning against Stanford during the second half of a second-round college basketball game in the women's NCAA Tournament on Sunday, March 19, 2023, in Stanford, California. (AP Photo/Josie Lepe)
#By BRENT STUBBS
#Senior Sports Reporter
#bstubbs@tribunemedia.net
#Coach Yolett 'Yo' McPhee-McCuin and her University of Mississippi Lady Rebels are now into the National Collegiate Athletic Association's Sweet 16 of the women's national basketball tournament for the first time in 16 years.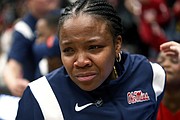 Mississippi head coach Yolett McPhee-McCuin reacts after winning against Stanford during the second half of a second-round college basketball game in the women's NCAA Tournament, Sunday, March 19, 2023, in Stanford, Calif. (AP Photo/Josie Lepe)
#Grand Bahama native McPhee-McCuin and her Lady Rebels booked their ticket to the NCAA Regionals in Seattle, Washington, this weekend as they pulled off a 54-49 win over the three-time national champions and number one seed Stanford Cardinal on Sunday night at Stanford's Maples Pavilion.
#"Everyone, especially on social media say, 'Yo can't win the big one,' so for our team to do this, I'm full of gratitude," stated McPhee- McCuin, a product of her father, legendary men's national team basketball coach and Catholic High Crusaders' famed coach Gladstone 'Moon' McPhee and her principal mother Daisy McPhee, who were both in attendance.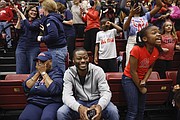 DAISY MCPHEE, left, mother of Mississippi head coach Yolett McPhee-McCuin, and daughter Yasmine McCuin, right, react after Mississippi won at the end of the second half of a second-round college basketball game in the women's NCAA Tournament on Sunday. (AP Photos/Josie Lepe)
#"This is for the people with a dollar and a dream. I'm a little girl from The Bahamas that was given an opportunity. I wasn't Ole Miss' first choice, but I was the right one. I wasn't naïve to think that I could do it and that's what no ceilings mean, that there's no limit. So I'm just really proud to be the head coach here."
#The Rebels, 25-8, now await the winner of the match-up on Monday night between No.4 seed Texas and No.5 seed Louisiana, but McPhee-McCuin said it doesn't matter. They are packed and heading to the Climate Pledge Arena in Seattle, starting on Friday.
#"I love Seattle," an emotional 40-year-old McPhee-McCuin stressed. It was the first time since 2009 that a No.1 seed failed to reach the Sweet 16 in the women's NCAA Tournament. The Cardinal, 29-6, had not been eliminated in the second round since 2007. The 2021 national champion made 14 consecutive appearances in the Sweet 16 for the third best mark of all-time behind the University of Connecticut Huskies and the Tennessee Volunteers, who did it 28 and 27 times respectively.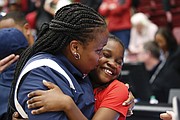 MISSISSIPPI head coach Yolett McPhee-McCuin kisses her daughter, Yasmine, after winning against Stanford after the second half of a second-round college basketball game in the women's NCAA Tournament, Sunday, March 19, 2023, in Stanford, California.
#For Ole Miss, it was the first appearance for the Rebels in the Sweet 16 since 2007.
#For McPhee-McCuin, now in her fifth year after making the trek from Jacksonville University where she began herhead-coaching sting from 2013-2018 (following stints as an assistant at Frank Phillips College, Arkansas – Pine Bluff, University of Portland, and Clemson), the Sweet 16 appearance couldn't come at a better time.
#"Everyone had a dream coming up," said McPhee- McCuin, who graduated from Catholic High in 2000 and went on to play as a point guard for Miami- Dade Community College from 2000-2002 and the University of Rhode Island's Rams from 2002- 2004, finishing with a BA in business management.
#"I'm a dreamer, and I try to be a dream merchant for my players. But how cool is it to take down someone that you admired (in Stanford's coach Tara VanDerveer). Like, that was pretty freaking cool. So I'll never forget this."
#The Lady Rebels, whose entire team started their season with their first trip to The Bahamas to participate in a pre-season tournament at Baha Mar in November, has had another high point to reflect on this past season.
#Last month, Ole Miss had an impressive run against national champions South Carolina in a Southeastern Conference (SEC) regular match-up, taking the undefeated Gamecocks to overtime in a nine-point loss.
#But against the Cardinal, the Lady Rebels led from start to finish, opening as much as a 13-point lead in the third quarter with three players leading the Lady Rebels in double digits. Angel Baker had 13, Marquesha Davis 12 and Rita Igbokwe added 11.
#The difference in the outcome of the game, according to McPhee-McCuin, was what wins games – defence.
#"We knew that Stanford's size and length would be a little problematic for us, but we also knew we could defend," she summed up.
#Cameron Brink, who missed the Cardinal opening game in the tournament due to a stomach bug, had a game high 20 points, 13 rebounds and seven block shots, but it wasn't enough for Stanford to stay alive.
#"People tried, but it was a struggle," said Stanford's coach VanDerveer, the Hall of Famer and winningest women's coach.
http://www.tribune242.com/news/2023/mar/21/mcphee-mccuin-and-ole-miss-rebels-stun-stanford-re/?news