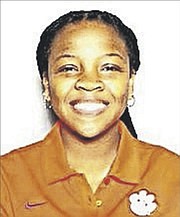 Yolette McPhee-McCuin
#By RENALDO DORSETT
#Tribune Sports Reporter
#rdorsett@tribunemedia.net
#COACH Yolett McPhee-McCuin hosted her first official practice as head coach of the Ole Miss Rebels women's basketball programme.
#Ole Miss opens the season with a home exhibition with LeMoyne-Owen on November 2, with the regular season slated to begin at home against Norfolk State on November 6.
#"I thought the energy of the group was great. I thought they came out and everyone was excited and locked in," McPhee-McCuin said. "Obviously there is a lot we need to implement and work on but, for the most part, I felt like they controlled the controllables, which is their attitude and their effort."
#She was named last April after turning around a Jacksonville programme that had only won 20 games twice in its history prior to her arrival.
#"In my opinion, everyone is a newcomer because everyone is trying to get better. This is a new system for all parties involved. I'm just looking forward to growing with them and getting them to build chemistry on the floor, and that will happen over time."
#Ole Miss women's basketball will be featured on national TV during six Southeastern Conference contests.
#All six games will be broadcast on SEC Network, with two coming at home at The Pavilion at Ole Miss on January 6 (Arkansas) and January 20 (Florida), with the other four coming on the road on January 13 (Kentucky), January 27 (Mississippi State), February 18 (Georgia) and February 24 (Arkansas).
#"Anytime there is a new programme, there is a curiosity that's out there," McPhee-McCuin said.
#"Ole Miss is a national brand, so a lot of people recognize it already. There's not a place I go that I don't hear Hotty Toddy," she said during a recap of the summer months "I think success for me would be putting out a product on the floor that our fans will be proud of. When you come and watch us play, you can see that there is a new era, and where it is going. You're going to see young women that enjoy playing the game. You're going to see young women that enjoy playing with each other and for each other."
#The Rebels ended last season with a 12-19 record and a second round loss in the SEC Tournament.
#The daughter of legendary Bahamian coach Gladstone "Moon" McPhee and educator Daisy McPhee, she became the ninth head coach in Rebels history.
#Valerie Nesbitt became the first local player signed by McPhee-McCuin in her tenure leading the Rebels. Nesbitt, a sophomore at Chipola College, committed to join the Rebels for the Fall 2019 campaign.
#Prior to her post at Ole Miss, McPhee-McCuin completed an historic tenure with the Jacksonville Dolphins where the programme accomplished several new feats.
#In her final game at JU, the Dolphins saw their season come to an end in the opening round of the WNIT when they were eliminated with a first-round loss to the University of Central Florida Knights.
#It was the second consecutive season the Jaguars came up just short in a bid for the NCAA Tournament but earned a berth to the WNIT. McPhee-McCuin also signed a Bahamian player – Shalonda Neely – to join the programme while at Jacksonville.
More like this story