Mighty Warriors take home boys' soccer title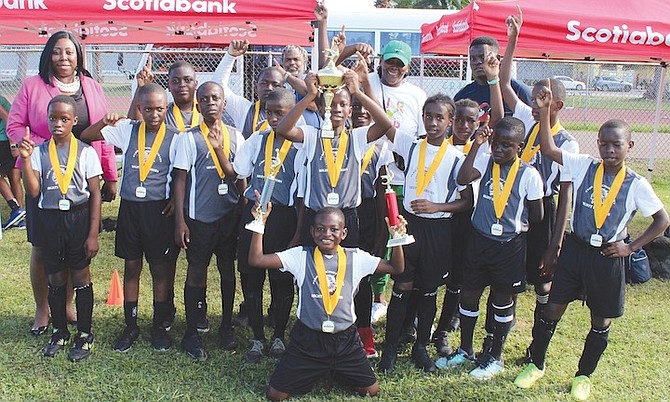 SOCCER CHAMPIONS: The Sybil Strachan Primary Mighty Warriors show off all their hardware. The boys earned an impressive 5-1 victory over Claridge Primary to win the Bahamas Football Association's New Providence Public Primary Sports Association boys' soccer title. Photo courtesy of the BFA
As of Wednesday, November 16, 2022
Photo Gallery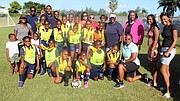 #By BRENT STUBBS
#Senior Sports Reporter
#bstubbs@tribunemedia.net
#Sybil Strachan pulled off an impressive 5-1 victory over Claridge Primary to win the Bahamas Football Association's New Providence Public Primary Sports Association boys' soccer title, while Eva Hilton added the girls' crown to their triumph in the golf tournament held earlier this year.
#The champions were decided yesterday as the week-long tournament came to a close at the Flag Football Field in front of the Thomas A Robinson Track and Field Stadium.
#"Very proud, overwhelmed, full heart because of the efforts of the teachers, administrators, coaches and the kids," said Carl Lynch, who organised the tournament on behalf of the federation.
#"We have not played in two and-a-half years, so some of them were a little bit rusty. "But you could see the enthusiasm and the energy of the teams, especially in the finals. It was priceless. This was a great year and we are going to start planning for an even bigger year next year."
#Association president Latoya Bain-Sturrup said the tournament turned out to be an excellent one.
#"It was well organised. We had about 20 schools from the girls and about 24 from the boys."
#Bain-Sturrup and her Claridge Primary girls' team had to play second fiddle to Sybil Strachan.
#Head coach Greer Thompson, who was named the shining light coach of the tournament, said she was thrilled by the efforts of her Sybil Strachan team. "We put in a lot of hard work and these guys really played with a lot of heart," Thompson said.
#"Even on fun day, they said 'Mr Thompson, we have to practice,' They put in a lot of hard work. I am so proud of them.
#"I want to thank God for giving us those opportunities. We've been waiting on this since COVID-19 happen. We're just glad that we got this opportunity to make it happen."
#As Thompson was crowned the top coach of the boys' tournament, Hernandez Touissant earned the most valuable player as well as the golden boot champion, having scored the most goals. Novins Emile was the Golden Glove winner as the top goal keeper.
#Despite losing the title, coach Margaret Albury said she was still pleased with her team's performance.
#"I just went there in the last week of September and we started practicing in October," she said. "They did very well considering the time they had to practice. I'm pleased. We came second, but Sybil Strachan was beating everybody, but they only beat us by four, which was good."
#Cleveland Eneas were the third place finishers.
#On the girls' side, Eva Hilton Primary School pulled off a 3-1 victory over Claridge Primary.
#Zindora Munnings, head coach of Eva Hilton, said it was good to add another title to their ledger this year after winning the Primary Schools Golf Championship title in March.
#"I think the girls played very well. They worked together, even though Claridge scored the first goal. Our girls were able to stay focused, they came back with revenge and we won the title," Munnings said.
#Aiyanna Hernandez led the attack for Eva Hilton as she was named the MVP and the winner of the Golden Boot. Her goalkeeper Dwanae Rahming was the winner of the Golden Glove.
#"They worked very hard for it, so I am very pleased with these girls who won those awards," Munnings said. "Team work makes the dream work and our goal was to come out here and win the championship and that is what we did today."
#Mariska Thompson of Cleveland Eneas was awarded the Shinning Light Coach of the Tournament. One of her players, Kiyarah Rolle, sang her praises for guiding them to the third place finish. "We're not disappointed. At least we won something," said Rolle, an 11-year-old sixth grader.
#"We worked hard today and we listened to our coach (Mariska Thompson). It was still a good tournament for us."
#With the tournament, which got started last week, it had to be halted because of the passing of Hurricane Nicole.
#Bain-Sturrup said the teams will now gear up for its next competition when softball for girls and baseball for boys will be played from November 28 to December 2.
http://www.tribune242.com/news/2022/nov/16/mighty-warriors-take-home-boys-soccer-title/?news