Miller-Uibo 'still sits in good company'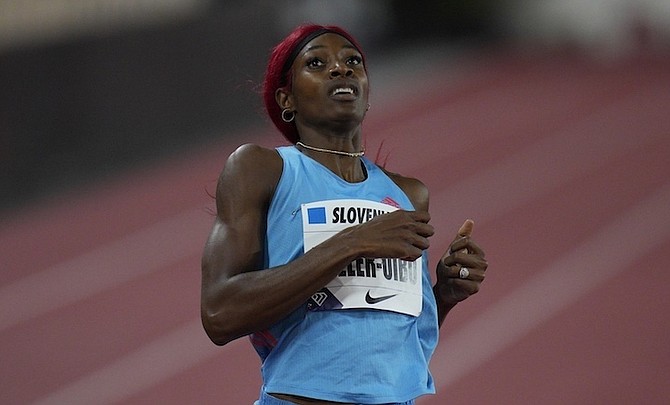 SHAUNAE MILLER-UIBO, of The Bahamas, still sits in good company on the all-time list of performers after the 12th edition of the Diamond League – a series of 12 events during the course of the year that concludes with a two-day final. (AP Photo)
As of Tuesday, September 13, 2022
#By BRENT STUBBS
#Senior Sports Reporter
#bstubbs@tribunemedia.net
#While she didn't compete in this year's Wanda Diamond League Final a week ago in Zurich, Switzerland, quarter-miler Shaunae Miller-Uibo still sits in good company on the all-time list of performers.
#After the 12th edition of the league – a series of 12 events during the course of the year that concludes with a two-day final – Miller-Uibo is listed as one of six women who have captured two Diamond League titles in the same year.
#Miller-Uibo, still the only Bahamian to win a Diamond League title since the inception in 2010, won both events in 2017 to join American Allyson Felix, who did the feat in 2010, along with American Carmelita Jeter and Jamaican Shelly-Ann Fraser-Pryce, the 100/200m champions in 2011 and 2013 respectively, Ethiopian-born Dutch distance runner Sifan Hassan, a 1,500/5,000m winner in 2019 and Colombia's Caterine Ibarguen, the long and triple jump winner in 2018.
#American sprinter Noah Lyles, who won his fourth 200m title in five years this year, is the only male athlete to have achieved the double feat, taking the 100/200 crown in 2019.
#This year, Miller-Uibo was eligible to compete in the 200/400 combo, but she opted not to compete.
#She captured a three-peat in the 200m in 2017-2019 to go along with her 400 metre triumph in 2017.
#While she didn't compete this year, the Bahamas was represented by sprinter Tynia Gaither and hurdler Devynne Charlton.
#Gaither, the North American, Central American and Caribbean's 200m silver medallist, competed in the same event where she was sixth in a time of 22.66 seconds as Shericka Jackson took the title in 21.80.
#Charlton, the 26-year-old Bahamian women's national 100m hurdles record holder, World Indoor and Commonwealth Games silver medallist and bronze at the NACAC Championships, was fifth in her specialty in Zurich in 12.66.
#World record holder Tobi Amusan of Nigeria won the title to add to her collection from the World Championships and the Commonwealth Games.
http://www.tribune242.com/news/2022/sep/13/miller-uibo-still-sits-good-company/?news