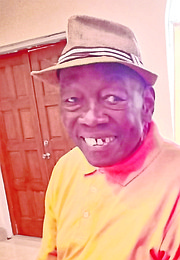 Leonard 'Boston Blackie' Miller
#By BRENT STUBBS
#Senior Sports Reporter
#bstubbs@tribunemedia.net
#FORMER boxing champions Patrick 'the Centreville Assassin' Strachan and Arthur Buchanan, along with the Progressive Liberal Party, joined those who remembered national boxing/cycling legend Leonard 'Boston Blackie' Miller.
#Miller, 82, died on Sunday (Father's Day) shortly after 2pm at the Princess Margaret Hospital. The Bahamas National Hall of Famer left an indelible mark as a former athlete turned community builder and renowned coach.
#Strachan, the former Bahamas cruiserweight champion, said he always looked up to Miller as a teacher from the 'old school' who demanded the best out of his fighters.
#"I started boxing at the Southern's Lounge at the Zanzibar on Kings Street and Blue Hill Road in the 1970s," Strachan said. "Reny Pinder (also deceased) introduced me to boxing. He was the middleweight champion of the Bahamas.
#"That was when I met Boston. Those were the glory days of professional boxing when we had guys like Bert Woods, Kid Cruise, Kid Nassau, Garlin 'Killer' Moss and Freddie Major, all of whom trained at the Southern's Lounge."
#During those days, Strachan said he always felt that Miller was a strong, focused disciplinarian, who trained hard to become the Bahamas' heavyweight champion before he passed on their dame type of dedication and commitment to coaching.
#"I think he was one of the most outstanding fighters in our history," Strachan said. "He was also an outstanding cyclist. He was much older than me. He was always my senior, but I trained under him at the Southerns Lounge before they moved to the Bird Land on Mt Royal Avenue.
#"In 1979, I attended the Caribbean Golden Gloves Championships in Coconut Grove, Florida with Boston as the head coach and Sonny Boy Rahming as the assistant coach," Strachan recalled.
#"On that team, we had Vincent Strachan, Roscoe Rolle, Arthur Buchanan, Boston's sons Lenny and Glen Miller. We participated in those championships and we developed a good relationship from then.
#"He was from the old school. He believed in hard work and he was a straight up guy. He was definitely an asset for amateur boxing. He helped to make amateur boxing in the country what it is today. Trainers like them come around once in a lifetime."
#Buchanan, a former Bahamian welterweight boxing champion who grew up under the tutelage of Miller, said he had a recent chat with 'Marvelous' Marvin Smith about taking him to see Miller so that he would present him with a few things.
#"I waited too long, now Boston is gone. It just made me cry," Buchanan said. "Boston Blackie made it to become the amateur welterweight boxing champion in 1978. I am so proud to be in the record book, thanks to Boston Blackie."
#Philip 'Brave' Davis, the leader of the PLP, called Miller one of its charismatic, fearless and outspoken elder statesmen.
#Davis said Miller was known and revered by throngs of boxing fans for his fighting style of cutting off the ring as he cornered his opponents and delivering repeated overhand lefts and rights he called the 'Bolo Punch,' which pounded many of his opponents into submission.
#"Miller, like many of his boxing contemporaries (such as Charlie Major Sr, Bert Perry, Baby Boy Rolle, Dynamite Fritz and Sugar Kid Bowe), never achieved and enjoyed the international fame and success in boxing as other Bahamian boxing luminaries such as Yama Bahama, Elisha Obed, Sherman 'the Tank' Williams, Ray Minus Junior and Tareano Johnson enjoyed, but his contribution to the sport of boxing locally was profound and paved the way for a generation of participants in the 'sweet science'," Davis said.
#"Leonard Miller was a husband and father who was a disciplinarian by nature and a common man who lived in the Yellow Elder community. He would spend his latter years as a physical education teacher within the public school system of the Ministry of Education.
#"This appointment by the Pindling government provided Mr Miller with the opportunity to teach our student athletes the values of teamwork, self confidence and self discipline as important building blocks of success not only in sports, but in life."
#As a community leader, Davis said Miller molded many of our youth into responsible and productive adulthood. He thanked him for his service to the country in the areas of community and youth development through the instruments of sports and athletics.
#"He has left with us an enduring and rich legacy of excellence and leadership and giant shoes to be filled," Davis said.
#"On behalf of the Progressive Liberal Party, I express heartfelt condolences to his family and the sporting community generally."
#Miller was not only remembered for his exploits as a boxer, but also as a cyclist who represented the country in a number of major international events. He later became a school teacher at Government High and CC Sweeting High Schools.
#He was also a police reservist.
#Miller, who turned professional on December 22, 1952 with a loss to George McKinney, went on to post a 14-19-2 win-loss-draw record, losing his last fight against Ernie 'the Androsian Tiger' Barr on July 20, 1978.
#Miller fought three times for the Bahamas heavyweight title, losing first to Cleveland 'KO' Paris in 1960 and twice to Bert Perry in 1969. However, in their third meeting on October 11, Miller prevailed to clinch the title, only to lose it again to Perry on November 17, 1970.
#On July 29, 1966 in Grand Bahama, Miller also fought and lost the light heavyweight title to Baby Boy Rolle.