TRAVIS Munnings
#By RENALDO DORSETT
#Tribune Sports Reporter
#rdorsett@tribunemedia.net
#TRAVIS Munnings and his Portuguese club advanced to the league final while Zane Knowles and his Bulgarian club received a favourable ruling in arbitration to keep their playoff hopes alive.
#Munnings and Sporting Lisboa Benfica have advanced to the finals in Portugal's Liga Portuguesa de Basquetebol (LPB) after they defeated his former club UD Oliveirense in a three-game sweep. They will face the winner of the other semifinal matchup between FC Porto and Sporting CP .
#Munnings did not play in game three but opened the series with five points, five assists and three rebounds off the bench in an 89-72 game one win. In game two he pulled down seven rebounds and dished three assists in a 93-80 game two win.
#Benfica completed a two-game sweep of Povoa in the quarterfinal. In game one, Munnings had five points, four rebounds and three assists in his team's 77-59 win. In game two, he had a perfect shooting night from the field (5-5) and finished with 16 points and eight rebounds in an 84-67 win.
#In 28 games this season, Munnings averaged 7.8 points, 5.1 rebounds and 1.7 assists per game while shooting 61 percent from the field and 34 percent from beyond the arc.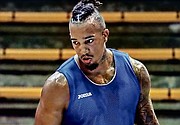 Zane Knowles
#Zane Knowles and Levski Sofia staved off elimination on the court in Bulgaria's NBL semifinal against Balkan Botevgrad, but after an administrative ruling, the club was forced to battle off the court in order for the series to continue.
#With Balkan leading the series 2-1 NBL officials ruled that Levski was ineligible to continue competition and the remainder of the games in the series would be forfeited due to issues surrounding the clearance of Levski player Yordan Minchev.
#On Wednesday, the Arbitration Commission of BSE Basketball overturned the decision and reinstated Levski into the playoffs.
#The series is set to continue and game four will take place on May 29.
#In game one, Knowles came off the bench to finish with eight points and four rebounds in an 80-74 loss. Moved into the starting lineup for game two, he finished with 17 points and five rebounds in a 76-72 loss. In game three he nearly posted a double double with nine points and 11 rebounds in a 66-56 win.
#Last season while preparing for the season in Hungary with Zalakerámia ZTE KK, Knowles sought treatment for what he described as a minor hamstring injury when doctors discovered a rare Arteriovenous Fistula (AVF) that required surgery.
#In eight games since he returned to play, he has returned to form with averages of 16.6 points and 7.4 rebounds per game.