As of Tuesday, October 11, 2022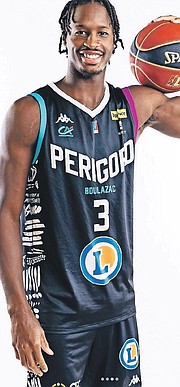 TRAVIS Munnings
#By RENALDO DORSETT
#Tribune Sports Reporter
#rdorsett@tribunemedia.net
#TRAVIS Munnings has had an immediate impact in his promotion to the French ProB League with his Boulazac Basket Dordogne basketball club.
#Munnings has averaged 10.6 points, four rebounds, and 3.5 assists per game thus far as the team competes in the preseason Leaders Cup.
#Munnings, a senior men's national team stalwart, signed with Boulazac last August for his fourth season of pro basketball.
#Since he joined the club, Boulazac opened with a 109-104 loss to Vichy-Clermont, followed by back-to-back 101-84 and 92-75 wins over St. Charmond. They will travel to face Vichy-Clermont in the finale of the Leaders Cup tonight at 8 pm.
#Pro B regular season league play begins on October 15 when Boulazac will face Lille Métropole in the opener.
#Last season, Boulazac finished 13th in league standings at 13-19.
#The front office has been optimistic about the impact they expect Munnings to have.
#"Munnings is a small forward that is very versatile. He is able to evolve and play shooting guard but also a power forward. He will bring volume to the team," they said in a team issued press release. "Munnings is an athletic player by his physicality. He plays on both sides of the field with a lot of intensity and he knows how to adapt and put himself at the service of his team. A real Swiss army knife in the attack, he can post, attack in dribble, or even shoot threes from long distance."
#Munnings previously played in France when he made his pro debut with La Rochelle Stade Rochelais of France's NM1 League. He averaged 17.5 points, eight rebounds and 3.8 assists per game in his brief stint with the club.
#The following year, he moved to Portugal's Liga Portuguesa de Basquetbol (LPB) and averaged 12.5 points, 8.1 rebounds, and 3.3 assists per game for UD Oliveirense. He helped lead the club to a 19-7 regular season record and quarterfinal berth. The following offseason he made the move to Benfica.
#Munnings spent last season with Sporting Lisboa Benfica and helped the club complete a dominant season in Portugal's Liga Portuguesa de Basquetbol (LPB) with the 2022 championship title.
#Benfica completed the regular season as the top overall seed at 24-4 and had an 8-1 run throughout the playoffs.
#In 30 games, Munnings averaged 7.4 points, 5.1 rebounds, and 1.7 assists per game while shooting 60 percent from the field and 30 percent from beyond the arch.
#In FIBA EuroCup play, Benfica finished just short of the quarterfinals in Group K. In 14 EuroCup Games he averaged 8.7 points, 5.4 rebounds, and 3.5 assists per game.
#At the national team level, Munnings helped The Bahamas advance to the second round of FIBA Basketball World Cup Qualifiers for the first time in history.
#In six games of the three qualifying windows, Munnings averaged 10 points, 6.7 rebounds, and 5.3 assists per game.
http://www.tribune242.com/news/2022/oct/11/munnings-makes-impact-french-prob-league/?news