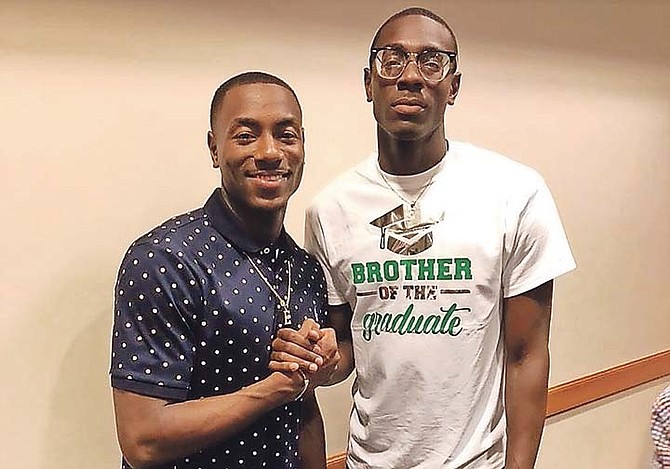 LAQUAN NAIRN, right, with his big brother Lourawls 'Tum Tum' Nairn.
#By BRENT STUBBS
#Senior Sports Reporter
#bstubbs@tribunemedia.net
#Laquan Nairn, graduating as a Razorback track star at the University of Arkansas, joined big brother Lourawls "Tum Tum" Nairn – a former basketball player with the Michigan Stated Spartans – in forming a rare Bahamian siblings to finish their tertiary education in the United States in two different sports.
#For Laquan, who grew up playing basketball before he made the switch to athletics, COVID-19 denied him the opportunity to enjoy the formal graduation "Tum Tum" experienced in 2018. Instead, Laquan is waiting for his degree in criminal justice to be mailed to his residence in Fayetteville, Arkansas.
#Like "Tum Tum" did last year in returning to Michigan State as a graduate assistant for the Spartans' basketball team, the younger Nairn will be back with the Razorbacks this year to complete his senior outdoor track and field season that was cut short by the spread of the coronavirus.
#He's taking advantage of the NCAA's decision to allow senior athletes to return to school to complete the outdoor season that they were deprived of because of the coronavirus that halted all sports in March and forced the shutdown of schools throughout the United States.
#"I just feel like it would be in my best interest to go back and complete my senior season because it will provide me with the best opportunity to get ready for the Olympic Games and the World Championship," he said. "It just makes sense for me to do my final year of eligibility for the outdoor season."
#Laquan Nairn is still in Fayetteville where he has been able to continue to train and stay fit, despite the spread of the coronavirus. But with the death of American George Floyd in Minnesota, which has sparked nation-wide protests and looting in the USA, Nairn said he has to realise that he's a Bahamian in a foreign country and has been very cautious.
#"It's nothing that I can say or do, even though I am a black person. I can't speak on what the African Americans are going through right now," he said. "I am a Bahamian first. I can't really put myself in their shoe because I can't relate to what they are going through. I haven't experienced anything like that in the Bahamas, so I can't say because I am black, I can go through it with them."
#As a Christian believer, Laquan Nairn said he believes that God made everybody and he hasn't read in the Bible where it states that black people are better than white or vice versa.
#"I can't really speak on that. I'm good," he said. "I am a Bahamian. Sometimes you have to move with wisdom. I know that as a whole, the world is going through a spiritual warfare, but I can't go on social media and express my interest in what they are doing."
#Laquan said he's aware that the people want justice for George's life, but because he hasn't experienced anything like that at home in the Bahamas, he has decided to stay at his residence in Fayetteville and not participate in any of the protests. "My passport says something different. I am a Bahamian citizen and not an American citizen," he stated. "If they touch me, my Bahamian government will have to help me out. I am black, but I haven't experienced what they are going through. So I'm not going to touch it."
#As the older brother, "Tum Tum" said he has tried to offer the best advice to his younger brother during their daily conversation to help him to deal with the "touchy" situation and not let it overwhelm them as Bahamians in a foreign land. "Being a black man in America, I know all about the history and what that means, but I just feel like people have a right to protest if they want, people have a right to feel angry and people have a right to feel frustrated because of things that were happening for years upon years," Tum Tum stated. "But I think you have to move with wisdom when you are dealing with things like this.
#"I don't have a problem with protesting, but I myself won't be going out there and protesting because I understand in myself that it is so much more that we can physically see that is going on. I just want to be support for others because I am a black man and I have been in the United States since I was 13, but I just walk in wisdom and be a help in a positive way."
#While people have a mind of their own, Tum Tum said he has decided that he won't be participating in any protest, but rather he will rely on God to work things out in his own time.
#With his faith in God, Laquan Nairn said he was able to go to the United States and achieve the goal he set out to accomplish when he first enrolled in college at South Plains in 2016. Despite suffering an injury, he transferred to the University of Arkansas where he was able to flourish as a long and triple jumper.
#"This season was great. I give God all praise and glory for it. The whole time I was competing, it wasn't me jumping. I am totally honest, it was only God," Nairn stressed. "He allowed the things to happen to give me a platform to glorify his name."
#From an injured freshman season at South Plains to graduating as one of the top ranked competitors at the University of Arkansas, Laquan Nairn said he have so much to thankful to God for.
#"My brother (Tum Tum) allows tell me that your talent will take you only where your character will keep you," he said. "So it's all glory to God for the talent that he possessed me with.
#"I was at the NCAA Indoor Championships when the season was cancelled. I look at it as an opportunity to put my trust in God and not to lean unto my own understanding. I knew that God would work it out."
#Before his season was disrupted this year because of Covid-19, Laquan Nairn emerged as the runner-up in the Southeastern Conference (SEC) Indoor Championships with a lifetime best of 8.02 meters or 26-feet, 3 3/4-inches, which ranked him at number two on Arkansas' all-time list and No.2 on the Bahamian all-time list.
#Additionally, he placed fourth in the triple jump with a leap of 15.92m (52-2 3/4), enabling him to qualify for the NCAA Indoor Championships, which was called off in March as the coronavirus took shape around the world. While he didn't get the chance to compete in the Nationals, Laquan Nairn earned All-American honors in both events.
#Laquan Nairn also posted a personal best of 16.11m (52-10 1/4) in the triple jump at the Tyson Invitational after he opened the season with a mark of 15.83m (51-11 1/4) at the Arkansas Invitational. In the long jump, he did 7.69m (25-2 at the Red Raider Invitational and recorded his previous best at the Razorback Invitational with a distance of 7.94m (26-0 3/4).
#"My whole journey through college and my success is not to show people in the Bahamas that I am better than any of them," he said. "I was in the same situation that they are in and they can achieve anything that they want if they put their trust in God.
#"The grace of God is what has kept me. From a little kid playing basketball, I didn't know what college was all about. I didn't know about Arkansas until I start running track. It wasn't until then that I wanted to go to college and get a degree. I came out of a bad environment, but I made the best of my situation."
#If it wasn't those words of encouragement from Tum Tum that helped to inspire him and the mentorship that he got from national triple jump record holder Leevan 'Superman' Sands, Laquan Nairn said he doesn't believe that he would have been able to accomplish what he did.
#"Manners and respect will take you through this world. That is what has sustained me," he emphasized. "You would be surprised at how many people love me over here. And it's not because I run track because a lot of them think that I play basketball. But it's because I have manners and respect.
#"The medals and accolades that I achieved at Arkansas haven't changed me. They don't mean anything. I'm not like some of the other people who allow their success to change them. It didn't. I'm the same person. I want people to appreciate me for the struggles and the hardships that I went through to accomplish what I did as a Bahamian."
#Having set the pace as the role model for his younger brother, Tum Tum said it was a blessing to watch Laquan follow in his footsteps as a college graduate.
#"Growing up back home, college was never in our minds. We never really talked about what college we wanted to go too," Tum Tum reflected. "I feel he had a chance to go pro when he was coming out of school, but I didn't want him to be like me because track and basketball is two different sports.
#"It was my mom's idea for him to go to college. As he went through college and I as I understood how getting a college degree could open up certain doors for you because it's not an easy thing, I became more eager for him to graduate. When he graduated, I was super proud of him because I knew his journey wasn't easy and graduating from college wasn't an easy thing to do."
#Laquan Nairn, who stands at 6-feet, 1-inch, said when he tore his ACL during his freshman season at South Plains in the 2016/17 season, it was Sands who reached out to him and got him through the process to recover from his injury. Today, Nairn said Sands remains his mentor.
#At age 23, Laquan Nairn also credits 25-year-old Tum Tum for being there as a big brother, especially as they talk on a daily basis about life, being Bahamians and allowing God to help them both to be the best that they can be.
#"I thank God for Tum Tum because he went to college before me and he was able to share with me some of the things that he had to go through to survive," said Nairn, of their relationship that was developed out of the parentage of Lourawls Sr and Monalisa Nairn.
#"At the end of the day, I am proud of him because it's not normal to see two brother dominant in two different sports. Being my brother, he has helped me a lot."
#Tum Tum attended Michigan State and helped the Spartans to make the NCAA Final Four in 2015. After graduating in 2018, he wasn't drafted in the National Basketball Association (NBAA), but went on to be named to the Phoenix Suns' front office with a role in Player Development.
#While he was going through his transition from college, Tum Tum also played a pivotal role on the Bahamas men's national basketball team at the 2019 FIBA World Cup Qualifier. Now back at Michigan State where he is a Graduate Assistant.
#Before he achieved all of that, Tum Tum left HO Nashat the age of 13 to attend high school in Florida. He returned to the Bahamas at the age of 16 and spent five months at CR Walker before he went to Wichita, Kansas to attend Sunrise Christian Academy.
#The 5-10 former middle distance runner turned basketball point guard said he's enjoyed a transition that he will cherish for the rest of his life.
#"I think it's a blessing. I believe the Lord has really blessed us honestly. We just capitalized on that opportunity," Tum Tum quipped. "To be from the Bahamas and to be brothers, who participated in the same sport before we made the switch to what we are doing now, just to be able to have some success, to be from the same family with the same parents, is a blessing.
#"I always pray that we are an encouragement to the people back home because you can do and be whatever you want to be. It doesn't have to be sports. It can be whatever you want to succeed in. It's a blessing for us. I know my parents are proud of us, but we couldn't do it without God. We did it playing in two different sports after we switched from one sport to the other."
#In returning to his alma mater at Michigan State, Tum Tum said he's contemplating his future in sports, while at the same time completing his masters degree in kinesiology with a focus on sports administration. He completed his tenure as a student-athlete with a degree in communication.
#Having played basketball as his first love when he attended school in the Bahamas, Laquan Nairn said he still hoop it up every opportunity he can, once he get the approval from his coaches at Arkansas. His priority has changed to track and field and he's enjoying every moment of it.
#"Sometimes I wished I never stop hooping it up," Nairn said. "But I believe if I had continued, I might not have been the person that I am today. So I thank God for what he did in my life through track and field."
#As brothers, now college graduates, Laquan and Lourawls are making the best of their opportunities in the sports of track and field and basketball at the University of Arkansas and Michigan State respectively.