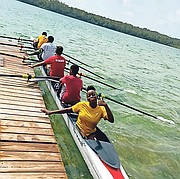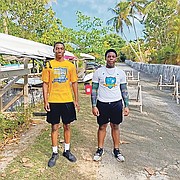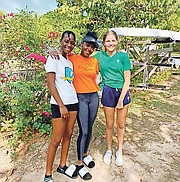 #FOR the first time since its inception, Nassau Rowing Club has realised the dream of bringing together rowers from across the island to compete in a scholastic regatta.
#Student athletes represented their schools, including Lyford Cay International School, Windsor at Albany, Windsor Prep, Tambearly, Genesis Academy, Nassau Christian Academy, CR Walker High School, St Augustine's College, and Focus Point Academy.
#Rowers from St Andrew's School and Queen's College spectated and cheered for their favourites.
#The race course was 1,000m, and the boat classes consisted of single sculls (1x), doubles (2x) and quads (4x). "Boys and Girls Novice and JV raced, with some very tight finishes. Junior scullers Timothy Stuby, grade 10 at LCIS bested Jackson Mamock, also grade 10 at Lyford by only 1 second," said a press release.
#Said Jermaine Francis, a grade 12 student at CR Walker: "I was really impressed with Valcir and I, that we were able to beat the rowers from Lyford in our double race."
#Valcir Santos added: "I was so excited that I forgot to breathe properly until the end of the race, but we finished."
#The boys finished second to a composite Nassau RC boat of Kenneth Hart from NCA and Kameron Taylor, a student at Focus Point Academy.
#Coach KariAnne Kulig said this was the first race for some of the novice rowers. "Our more experienced rowers have had the chance to compete off-island, but this is a way for everyone to experience a competition without having to spend a ton of money travelling to the US."
#Parents from all schools volunteered to drive the safety launch, run timing, and bring food to feed the athletes and visitors.
#"As our fleet of boats grows, we will be able to host larger regattas with visiting teams from both within Bahamas and abroad. Nassau RC looks forward to making this an annual event. If you are interested in taking up the sport of rowing, our next youth and adult learn to row programmes begin in April. Please contact Nassau Rowing Club for more information.
#.