New Appointment For Bca President Greg Taylor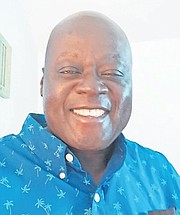 BAHAMAS Cricket Association president Greg Taylor.
#By BRENT STUBBS
#Senior Sports Reporter
#bstubbs@tribunemedia.net
#OVER the weekend, Bahamas Cricket Association president Greg Taylor was elected to serve on another regional body.
#For the next two years, he will serve as the Non Voting Associates Representative for the America's Region to the International Cricket Club.
#His appointment will place him in charge of 11 Associates in the region.
#Taylor, who previously served from 2002-2009 in the same capacity when all of the region were just known as Affiliates before the ICC changed it to Non- Voting Associates, said it's a prestigious post for him to represent the region in this fashion.
#He's expected to work directly with Fara Gorsi, the ICC Americas Regional Development Manager out of Colorado Springs, Colorado and Imran Khwaja, who is an associate member director, who was first elected to the ICC board in 2008 and has served as deputy chairman since 2017.
#"We have a lot of work to do in terms of getting cricket up and running," said Taylor, who will get the opportunity to travel to various meetings to discuss the way forward for the sport to continue to grow in the region.
#"I would like to see the Non-Voting Associates set up their game and have more involvement in the game and participation in the ICC, including us.
#"We need to see the sport developed more from the grassroot area up."
#As it pertains to the Bahamas, Taylor said his position will open the door for the Bahamas to become stronger in the region.
#"The Bahamas now have somebody who can lobby for us. We just have to get our act together and put certain things in place like the Youth Development Program," said Taylor, of the High School sessions held on the weekends at Haynes Oval, conducted by the BBC
#Taylor noted that during the week, the BCA has also instituted a women's program with the first six participants, but he said they anticipate that the numbers will swell this week to over 20 as there has been some keen interest from a lot of persons.
#Taylor has served as the president of the BCA since 2013 and is expected to contest another three-year term in office whenever the elections are held. He noted that no date or venue has been confirmed for the elections as yet.