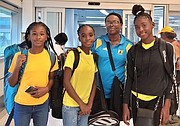 Coach Paula Whitfield with the Bahamas girls' under-12 tennis team.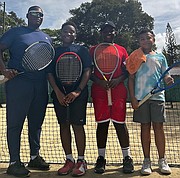 Coach Philip Major Jr with members of the boys' under-12 tennis team.
#By BRENT STUBBS
#Senior Sports Reporter
#bstubbs@tribunemedia.net
#BAHAMAS Lawn Tennis Association president Perry Newton said he has high expectations for the final three national teams that will be in competition at their various international events this week in the Dominican Republic.
#In Santiago, Dominican Republic at the 2023 ITF/COTECCU-12 Sub Region 3 team competition, the Bahamas will be represented by the U12 girls' team of Danielle Saunders, Caitlyn Pratt and Marina Bostwick with level 1 Coach Paula Whitfield as captain, while the U12 boys' team of Kingston Rees, Chase Newbold and Cameron Ferguson are captained by coach Philip Major.
#While these two teams are expected to begin competition today, the Billie Jean King Cup team of collegians Elana Mackey, Syndey Clarke, veteran Simone Pratt and teenager Saphire Ferguson, captained by dormer player/coach Kim O'Kelley, will be heading to the Dominican Republic.
#"We have a lot of personnel out there and so we hope that we will gain a lot of success, especially for the under-12 teams," Newton said.
#"It's a pre-qualifier event and the last time we had a team that qualified out of the tournament was in 2021. So we believe that the kids have the opportunity to do well. They just have to leave it on the court."
#The winning team from each Sub Region plus a team from Mexico will qualify for the IFT/COTECC U-12 Team Final in August.
#As for the Billie Jean King Cup, Newton said they will be playing out of Group two, but he sees no reason why, with the experience they have, they can't get back to Group one.
#They will need to finish as one of the two top teams to get the promotion for next year.
#"We have a very good team. They are probably going to be with us for a while," he said.
#"Sydney and Elana have been consistent on the team. They are veterans now, so we are hoping that they will be able to gel with Simone and Sapphire to bring us the success we are looking for. "We are happy to have Kim back as the captain. She's been off the scene for a while, coaching in the United States. But she brings a wealth of experience as a former player and captain and a Hall of Famer," Newton told The Tribune. Team Bahamas will be facing teams from Costa Rica, Dominican Republic, Ecuador, Honduras, Uruguay and Venezuela. While the top two teams advance to Group one, the last two teams will be demoted to Group three.
#The other two will remain in Group two.