As of Wednesday, April 26, 2023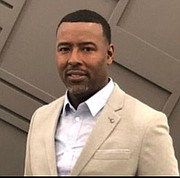 GENO BULLARD, president of Noble Preparatory Academy.
#By TENAJH SWEETING
#tsweeting@tribunemedia.net
#THE Noble Preparatory Academy's sixth edition of the Spring Classic Basketball tournament returns to the Kendal G L Isaacs Gymnasium following a two-year hiatus.
#After being derailed due to COVID-19, the tourney is set to feature lots of basketball action from 27 teams May 4-6.
#The basketball showdown will not only showcase high-level competition from the varsity seniors and juniors, but also allows for educational opportunities all at one event.
#Although it is supposed to be the eighth edition of the event, Geno Bullard, president of NPA, talked about the details of this year's basketball tournament. "When we initially created the event we wanted it to be a mixture of good basketball and athletics but also an informational session portion of it whereas students can learn how to obtain a college education," Bullard said.
#He added that not only will students have the opportunity to earn trophies and bring home the victory for their respective schools, but they will also have the chance to show off their skills in front of coaches and speak with advisors from Niagara College.
#For the juniors, there will be possible scholarship opportunities for them to attend NPA if interested.
#The 27 teams will include some fan favourites such as the CV Bethel Stingrays, CI Gibson Rattlers, RM Bailey Pacers, and DW Davis Royals. The senior division will be 19 and under and the junior division will include competitors 15 and under.
#Despite the event being centred around basketball, the senior students will have the opportunity to explore further educational opportunities for their post-high school academics.
#Bullard talked about the exciting educational possibilities for senior students and their parents.
#"We have over 130 programmes at Niagara so they will be able to see the vast amount of options they have available out there to study and this will be a part of the tournament," he said.
#The president noted that there will be brochures and a Niagara College booth for walk-ins and parents so that they can find out more information about the college for the seniors.
#Additionally, the NPA will have a booth as well for potential junior attendees. With the tourney providing the perfect balance of sports and education, event organisers are urging not only the public to attend, but for more teams ro register for the spring classic.
#Registration for all teams will close this week Thursday.
#For persons interested in attending, entertainment will be provided by local artists and cheerleaders.
#The event's ticket cost is $5 and it will commence at 4pm on day one of the three-day tournament.
http://www.tribune242.com/news/2023/apr/26/noble-prep-spring-classic-basketball-tourney-retur/?news