Islands of The Bahamas partners with UM Athletics
CORAL GABLES, Florida – The Bahamas' Ministry of Tourism, In… NEXTNext UpNEXT UP

Team Bahamas looking to respond
The Bahamas' senior men's national soccer team have a key re…
NPC bodybuilding show set for November 11 at Atlantis

Islands of The Bahamas partners with UM Athletics
CORAL GABLES, Florida – The Bahamas' Ministry of Tourism, In… NEXTNext UpNEXT UP

Team Bahamas looking to respond
The Bahamas' senior men's national soccer team have a key re…
NPC bodybuilding show set for November 11 at Atlantis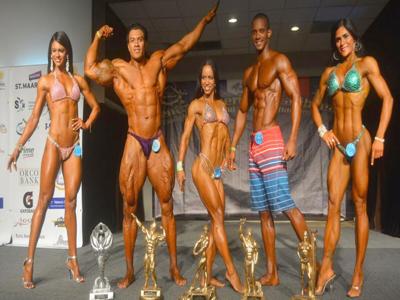 Local bodybuilders, fitness and wellness athletes will get another opportunity to advance themselves in the sport with the NPC Worldwide Caribbean Grand Prix Bahamas Pro Qualifier set to take place here in the country next month.
The National Physique Committee (NPC) event, which will be staged by Serge Saric Productions, is set for November 11 at the Atlantis Resort on Paradise Island. The check-in and pre-judging for athletes is set for November 10 from 5-7 p.m. at Atlantis, and athletes can register in person on that date or beforehand online at the website worldsportspromotions.com or by sending an email to the address caribbeangrandprix@gmail.com. Online registration closes at 10 p.m. on November 8 and NPC membership is required for all athletes wishing to compete.
Promoter Serge Saric, out of Pompano Beach, Florida, said he is looking forward to a grand show.
"It is going to be an amazing competition," he said yesterday. "A lot of people are coming from all over the world to take part in this event, and most of them will be in The Bahamas for about a week, and they will bring their families as well, so it will definitely help the tourism product. It is very important for the locals to come out and support.
Saric said they are looking for support from local sponsors as well, and they could register their businesses by sending him an email to the address sergesaric@gmail.com.
Overall, he expects quite a number of athletes, including Bahamians, to compete. Athletes are coming from as far away as Qatar and Europe. Athletes from this region will hail from North and South America, the Caribbean, and from right here in The Bahamas. He's encouraging more Bahamian athletes to get involved.
"We're looking forward to seeing some incredible athletes from The Bahamas compete," he said. "Right now, we already have about nine Bahamian athletes signed up to compete and there is still more time for more athletes to sign up. Overall, about 1,000 people from all over the world will be in The Bahamas for this grand event."
The event is being sponsored by Smith Technologies out of Spartanburg, South Carolina, United States, and it is being held at the Atlantis Resort here in The Bahamas for the second year in a row. There will be a professional and an amateur segment of the show, and it is a qualifier for the Olympia competition – the biggest bodybuilders and fitness show in the world.
Athletes will compete in men and women's bodybuilding, men and women's physique, men's classic physique, bikini, fitness, figure (body fitness) and wellness. There will be nine pro cards up for grabs.
The public can purchase tickets online at the website worldsportspromotions.com. Tickets can be obtained for $55 for general admission or $75 for VIP admission.