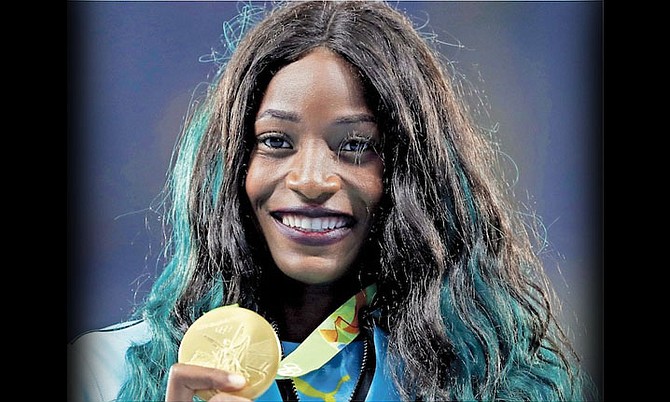 #By BRENT STUBBS
#Senior Sports Reporter
#bstubbs@tribunemedia.net
#RIO de Janeiro, Brazil — Shaunae Miller said it was so surreal for her to finally receive her Olympic gold medal.
#It happened last night, one day after she stunned American Allyson Felix by diving across the finish line to become just the second Bahamian to win gold, receiving it from one of the Bahamas' 'Golden Girls,' IAAF councilwoman Pauline Davis-Thompson in the ceremony at the Olympic Stadium.
#"It's such an amazing feeling. I just thank God for it," Miller told The Tribune after she received the medal. "I worked so hard for it."
#The hard work is over and Miller began celebrating with her family and the Bahamian delegation.
#She said her biggest thrill was when she got to walk out of the tunnel and into the stadium with Felix and Jamaican Shericka Jackson to hear the national anthem played and the national flag raised.
#"I am so excited and happy that I get to bring home a gold medal for the Bahamas," she stated.
#Twenty four hours since the accomplishment that drew mixed reviews all over social media and buzzed throughout the media centre after the dive, Miller said it still hasn't sunk in that she is the Olympic champion.
#"It's still so surreal that I won the Olympic gold," Miller stressed. "I'm just going to enjoy the moment with my family, who are all here and continue to cheer on the rest of the Bahamian athletes as they compete. She also has some vested interest in Estonia as her fiancé Maicel Uibo is competing in the decathlon.
#But with the Bahamas women's 4 x 400m relay team getting ready to compete on Friday in the preliminary rounds, Miller said she's not certain that she will be able to suit up.
#"I have to go to the doctor to check out the bruises," said Miller about the minor injuries to her body she sustained when she dove head first, scraping her arms and stomach area.
#If she's not ready to compete, Miller said she will be there to support her team-mates 100 per cent on the stands.