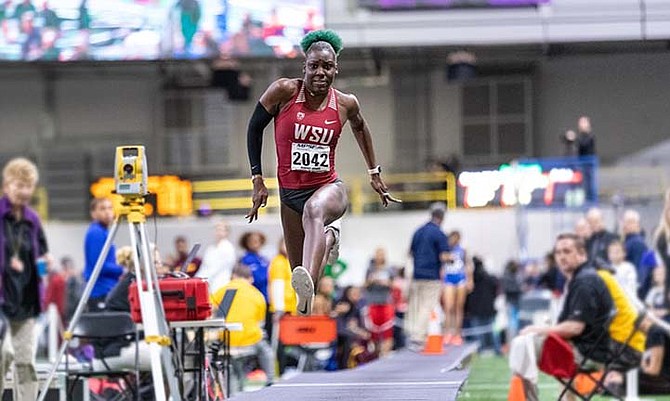 CHARISMA TAYLOR, in action above in the triple jump, is looking to become one of the next Bahamian Olympians.
#By BRENT STUBBS
#Senior Sports Reporter
#bstubbs@tribunemedia.net
#She's looking to become one of the next Bahamian Olympians, but the multi-talented Charisma Taylor will have to decide whether she will do it in the triple jump, the high hurdles or in both events.
#Taylor, a former Queen's College Comets superstar, just completed her sophomore year at Washington State by winning the triple jump title at the MPSF Indoor Track and Field Championships over the weekend of February 28-29.
#She posted a lifetime best of 13.29 metres or 43-feet, 7 1/4-inches and she got fourth in the 60m hurdles in 8.29 seconds.
#Although she didn't get to compete in the 2020 NCAA Indoor Championships in March because of the COVID-19 pandemic, Taylor was named a 2020 NCAA Indoor All-American on Tuesday as a result of her performance in the triple jump.
#Now home for the rest of the school year after all sporting events around the world, including the NCAA Outdoor season, were either postponed or cancelled as a result of the spread of the virus, Taylor said she has got the chance to stay fit by working out with coach James Rolle at the Thomas A Robinson Stadium.
#"It's going very well," said Taylor, who took advantage of Prime Minister Hubert Minnis' announcement a few weeks ago that professional athletes could train during the curfew and weekend lockdowns in the country.
#"At first it was hard because I wasn't in the best shape when I went out with coach James since I came home from school. But we're working on preparing for the BAAAs Nationals, if they have it. I will be using that meet to get me started on my season as I get ready to go back to school."
#Although her outdoor season was cut out of Washington State's agenda this year, Taylor had an impressive indoor season as she posted her lifetime best of 13.48m (44-2 3/4) at the Don Kirby Elite Invitational.
#Taylor, who has also produced lifetime bests of 6.03m (19-9 1/2) in the long jump; 7.65 in the 60m; 25.34 in the 200m and 13.79 in the 200m, said she's eager to see where her future takes her in the sport.
#"I think I had a really good season, the best season in my life, honestly," Taylor said. "My coach, Wayne Phipps, came up with this plan to reduce and prevent injuries. The plan was to work me harder in the offseason so my body could be prepared for the long indoor and outdoor season.
#"When the indoor season started, my goal was to PR in every meet and break my previous records and that's what I did. I did my PR in just about every meet in the hurdles and the triple jump, so I was really happy with that."
#On the course that Phipps charted for her, Taylor said she had anticipated going to the NCAA Indoor Nationals and producing another personal best. But she said they got the bad news that the meet was cancelled in March because of the coronavirus.
#"For me, I was disappointed because I was ready," she reflected. "I was definitely going to place. Just thinking about it, I know if I had jumped in the Nationals, I would have done some great things.
#"But I know that God has everything worked out for a reason. I'm not going to dwell on that too much. I just have to get ready for the Nationals, both indoors and outdoors, in 2021 and then the Olympics in 2021 as well."
#As she plays back the experience when she got the news that the Nationals was called off, Taylor said she felt that it was a good thing for her because she was hoping to take a slight break after the indoor season to get ready for outdoors and the Olympics, which was originally scheduled for July in Tokyo, Japan, but now rescheduled for July, 2021.
#"My body needed a break. I believe all of this was for the better," said Taylor about the break from her hectic collegiate season. "If the Olympics was still on this year, I know I would have made it, but with this extra bit of training, I know I can do better next year than what I would have done this year if it was still on. So all and all, this break in competition is for the better. I'm sure a lot of athletes feel the same way."
#While here at home, Taylor continues to train under the guidance of Rolle with the vie of getting ready for whenever the season resumes. But of course, her main goal is to qualify for the Olympics.
#She know there's some obstacles in her way, but she's looking forward to the challenge that will come from athletes such as Tamara Myers in the triple and national record holder Pedrya Seymour and Devynne Charlton in the 100m hurdles.
#"I feel like it's good to have some competition, but Tamara and I are now training partners, which is good because she pushes me in a way that I am not pushed at school," Taylor said. "So I feel like that's a good thing and when the time come that we will compete against each other, she will be in her zone and I will be on my own.
#"Luckily, Tamara is my my only good competition in the triple jump and the Bahamas can take two competitors so it should work out for us both. But for the hurdles, Devynne and Pedrya are exceptional hurdlers. I haven't gotten the opportunity to train with them. When we do get on the line, we will all be the same and anything could happen. We will see when that time comes."
#Now that she have two events that she can concentrate on, Taylor said she doesn't favor one over the other. However, she has some priorities that could make a difference in which one she would end up concentrating more on.
#"I don't really enjoy one more than the other, but I feel I have a better chance to make the Olympics in the triple jump because I've been performing better in that event and I'm closer to the Olympic mark than I am in the hurdles," she pointed out.
#"But I do want to try and qualify for both of events. If I qualify for both events, I will go to the Olympics and compete in the two events. But if the two events clash, which they normally do, then I would do the triple jump over the hurdles."
#Since coming home, Taylor said she's been in constant contact with coach Phipps and Rolle has ensured that does her daily routine to ensure that she is prepared for the future ahead of her.
#"I've been doing workouts in my yard, but when the track finally opened up, coach Rolle said we have practice on Monday so I need to come out and start training again," she pointed out.
#"We progressed where we are at a certain point and I also got a chance to spend time with my family and friends. I also got to see my grandmother. And I have a job here where I am doing food delivery for a shop to make some money in my spare time. I am also doing summer classes, so my day is hectic."
#The 20-year-old Hospitality Management major is the daughter of Patrice and Dewey Taylor. She said when the safety measures in the country is lifted, she's looking forward to returning to college to start her junior year and to be reunited with her friends.
#To the Bahamian public as she look forward to the measures being lifted in time for her to return to school in August, Taylor encouraged everybody to stay safe.
#"Stay inside, stay safe and hopefully we will get pass this sooner than later," Taylor summed up.