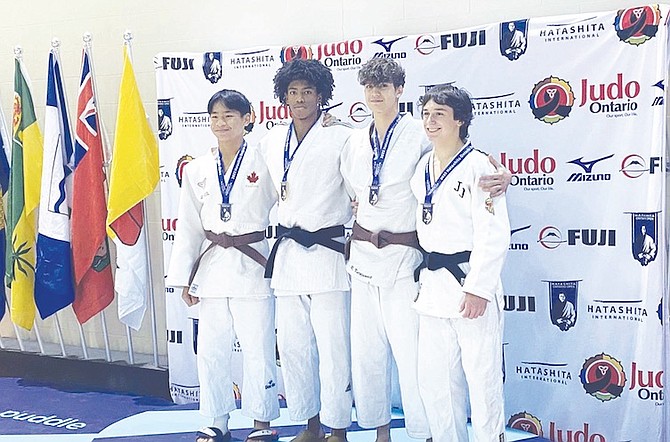 XAVION JOHNSON, second from left, is flanked by his rivals at the Ontario Open Judo Championships at the Toronto Pan Am Sports Center in Ontario.
As of Monday, November 14, 2022
#By BRENT STUBBS
#Senior Sports Reporter
#bstubbs@tribunemedia.net
#IN his second tournament in two weeks in Canada, Bahamian rising judoka Xavion Johnson had to settle for a gold and a fifth place respectively in the Cadet and Senior divisions of the Ontario Open Judo Championships at the Toronto Pan Am Sports Center in Ontario.
#On Saturday, the 16-year-old Johnson, who attends Capstone Academy, won the Cadet division, but yesterday he had to settle for fifth place in the open division.
#"It feels pretty good. It shows that what I did the week before wasn't a fluke," said Johnson, who easily won his three matches on Saturday in the 50-kilogram class where he stood as the tallest competitor at 6-feet.
#"It was really good. My semi-final was my toughest match because he scored on me in the first 15 seconds and then I scored on him and I scored on him again in the one minute and 20 seconds. "So it was my hardest match."
#After winning his opening match rather easily, Johnson had a difficult time in his semi-final match, but survived with the victory.
#After that, he got another quick decision in the final to win the title for the third time. "My techniques are better and I am much more focused," Johnson said. "Everything went very well for me. So I'm pleased with my performance today (Saturday).
#With no time to rest, Johnson came back on Sunday and fought in the senior category where he ended up in fifth place.
#"To be host, I thought today (Sunday), I was going to go 1-2, but I actually went 3-2, so I'm really happy with that," he said.
#Despite his loss, Johnson said he's not disappointed at all.
#"In my opinion, I fought way better today than yesterday," he said. "I felt like I was more hungry to win today, but it just didn't happen."
#While in Canada, Johnson was training with the Lethbridge Kyodokan Judo Club, coached by Russ Gallant.
#Johnson is coming off his impressive weekend last week at the Quebec Open at the Claude Robillard Sports Complex in Quebec where he clinched the victory in the under-18 boys' division of the 60-kilogram class to qualify for the Cadet World Championships in 2023.
#Johnson, who also trains out of the Eastwood Judo Club with sensei Mackey Munnings and the Black Ice Judo in the USA with Joshua White, he will take the rest of the year off to recuperate and enjoy the Christmas holiday before he prepares for next season.
#His proud mother, Ordain Moss, said she's grateful for the assistance from her family members, including his grand and great-grandmothers Tracey and Hazel Chea, godmother Udean Sattom and Paul Sattom.
http://www.tribune242.com/news/2022/nov/14/ontario-open-judo-championships-xavion-johnson-gra/?news