As of Thursday, September 1, 2022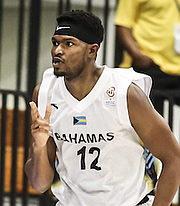 KENTWAN SMITH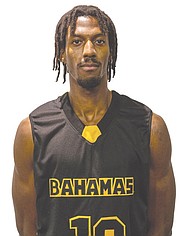 DANRAD KNOWLES
#By RENALDO DORSETT
#Tribune Sports Reporter
#rdorsett@tribunemedia.net
#FOLLOWING their appearance in the latest FIBA World Cup '23 Qualifying windows, a pair of senior men's national team players have signed with new clubs for their upcoming pro campaigns.
#Kentwan Smith progressed to a higher division in Spain. He signed with the Svendborg Rabbits of the Basketligaen – the top division in the country.
#"I'm excited for the opportunity to come and play for Svendborg Rabbits. I look forward to being a leader on the team and having a successful season with my teammates and coaches," Smith said in a press release.
#"My goal is to help put this team in a situation where we can make a deep playoff run and hopefully come out victorious in the end. I'm looking forward to connecting with the organisation and fans and seeing what we can accomplish together this season."
#Smith spent the last two seasons with Garonne ASPTT in France's NM2 league. In 23 appearances, he averaged 15.4 points per game.
#In the previous season, he averaged 12.9 points per game and Garonne ended the regular season with the second-best record in the league.
#In addition to Denmark and France, Smith's pro career has taken him to Finland, Mexico, Romania, Slovakia and the Czech Republic.
#Danrad Knowles will sign with CB L'Hospitalet of Spain's LEB Plata league – the third tier in the country. It will mark his second pro season after he spent his rookie campaign with AD Cantbasket 04 in the Liga EBA – Spain's fourth division.
#The former Houston Cougar was selected by the Grand Rapids Drive with the 65th overall selection of the 2018 G-League Draft.
#The Grand Rapids Drive are the G-League affiliate of the Detroit Pistons. Knowles averaged 13.5 points and 6.5 rebounds per game in 24 appearances.
#At the national team level, both players have been key members of Team Bahamas' rotation that advanced to the second round of World Cup qualifiers for the first time in Bahamian history.
#In the latest window against Venezuela and Argentina, Smith averaged nine points per game on 58 percent shooting from the field and 67 percent from three-point range.
#He has also averaged nine points per game through six qualifying games thus far while shooting 61 percent from the field and 42 percent from three-point range.
#He posted a high of 17 points in a first round win over the US Virgin Islands. Knowles has appeared in five games and averaged 7.8 points per contest on 60 percent shooting from the field. He scored a high of 14 against the US Virgin Islands.
http://www.tribune242.com/news/2022/sep/01/pro-basketball-players-smith-knowles-sign-new-club/?news