Bahamian professional player Jaraun "Kino" Burrows paid a visit to the X-treme Athletics basketball camp to give the kids inspiration and teach them basic basketball fundamentals. Photos: Tenajh Sweeting/Tribune Staff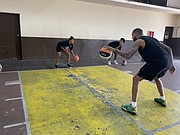 #By TENAJH SWEETING
#Tribune Sports Reporter
#tsweeting@tribunemedia.net
#BAHAMIAN professional player Jaraun "Kino" Burrows made the summer kids smile at the X-treme Athletics basketball camp after he not only paid them a visit, but trained and played in a scrimmage game with them.
#The forward who plays professionally for Andrézieux-Bouthéon in Andrézieux-Bouthéon, France, made the special stop just days after winning the basketball gold medal and Most Valuable Player (MVP) honours for Eleuthera at the 6th Bahamas Games.
#He was elated to be able to train with the kids and partake in the summer basketball camp.
#"That's what it's all about, during my summer home I always run my raw talent programme where all of my kids who are abroad and also the young prospects that we are looking at are together in the summer along with the college kids and the pros… we are looking to also give back in any way we can like passing by summer camps and doing some things in the inner city communities," Burrows said.
#With the camp now in its third week since the start on July 3, the kids have been able to learn and develop basic basketball fundamentals. Skills include dribbling, shooting, passing and defence which were practiced on a weekly basis. Although these skills are deemed essential and beneficial, Burrows said there are other perks of joining an athletic summer camp.
#"Camps like these are essential because the young people are the future. Sports does not just teach basketball, we are talking about life lessons, discipline, team building, ability to work with others and it helps to build productive members of society," the professional player said.
#Burrows believes that more sports camps should exist for the youth of the nation because it is bigger than him and basketball – it is about the future.
#Nekeno Demeritte, coach of the X-treme Athletics basketball camp, was happy to see Burrows, who he grew up with, show up to be an inspiration and teacher for the youth at his camp. "We knew one another for a long time and built a bond through basketball and track field. To get someone of his calibre to come to the camp to talk and interact with kids, I am truly grateful and appreciative of him doing this for us because it gives the children someone and something to look forward to," Demeritte said.
#Throughout the three consecutive weeks, the coach has noted that he has seen notable improvement with the kids in their development, style of play and basketball IQ.
#He echoed similar sentiments to the Bahamian forward by saying he believes that camps are really good for the summer programme for not only basketball, but other sports as well.
#Demeritte added that the camps help to build athletic prowess and he encourages everybody to enrol their kids in a summer sports programme.
#The X-Treme Athletics basketball camp will wrap up next week Friday, July 28.