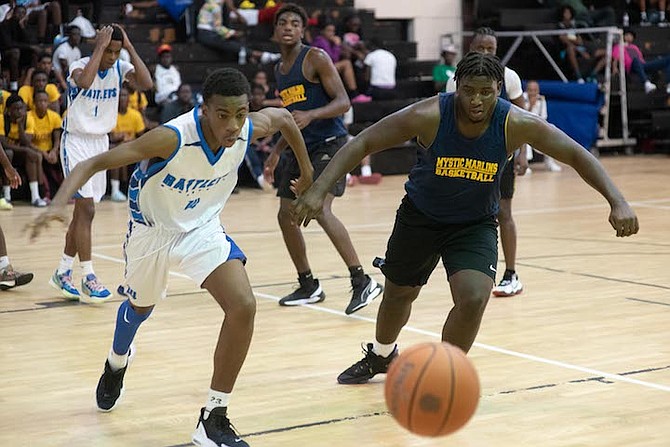 PLAY ACTION: Doris Johnson Mystic Marlins and CI Gibson Rattlers senior boys clash yesterday during the Providence Storm Basketball Club's Holiday Classic at CI Gibson gym.
As of Friday, December 30, 2022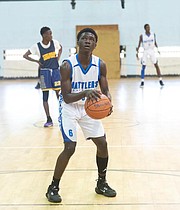 A CI Gibson Rattlers player at the charity stripe. Photos: Moises Amisial/Tribune Staff
#By BRENT STUBBS
#Senior Sports Reporter
#bstubbs@tribunemedia.net
#The Providence Storm Basketball Club's 2022 Holiday Classic will come down to one final day of competition today when the champions will be decided in the senior boys and girls and junior girls divisions at the CI Gibson Gymnasium.
#According to Mark Hanna, the tournament director, the senior boys have four pools to determine who will advance to the final, while the senior girls and junior boys will play their final four for their berths into the finals.
#In senior boys games played, Doris Johnson A def. Charles W, Saunders 36-24, CV Bethel def. Agape 24-15, Jordan Prince Williams High def. St George's 26-15, Doris Johnson def. CI Gibson B 36-27, CC Sweeting def. Queen's College 33-24 and Teleos def. Government High 34-12.
#In the junior boys division, St John's College def. CH Reeves 23-11 and Jordan Prince Williams knocked off Agape Academy 21-13.
#And in the senior girls division, CI Gibson nipped St Augustine's College 27-26 and CV Bethel got by Freedom Baptist 35-12.
Here's a summary of the games played:
#CI Gibson 27, St Augustine's College 26: Philippa Ferguson's only two points sealed the win for the Ratters in a nail-biting senior girls game. Jada Francis had 12, Alencia Brice seven and Trenea Greene added six.
#"We executed our defence by double teaming their star player (Astonic Moultrie) because we knew they were looking for her for the game winner," said CI Gibson's Shannon Williams, who coached the team along with Kevin 'KJ' Johnon. "We sent two players at her, one in the front and one in the back and hope that we can tap the ball away from her."
#Moultrie, who had a game high 13 points, was the target, but couldn't get around the Rattlers' defence in the winding seconds. Dior-Rae Scott helped out with seven for the Big Red Machine, who held a slim 13-12 lead at the half.
#CV Bethel 23, Freedom Baptist 12: Towering sisters Terrell and Danielle McCoy scored 14 and 12 points respectively to pace the Stingrays senior girls to victory after they opened a 12-7 lead at the half.
#"I feel great about the way my team is playing. We are executing more," said coach Shantelle Rolle. "We go into the playoffs tomorrow (today), but I am expecting us to get into the championship and hopefully win it."
#Weddalinnesi Alexis scored eight points in the loss for the Warriors.
#CC Sweeting 33, Queen's College 24: Jamerolston Vil had eight and Emmanuel Adams seven in the senior boys win for the Cobras, who led 17-7 at the half.
#"We started off good. I made some subs and that changed the momentum of the game," said Cobras' coach Darshtyn Baker.
#"We have some very good young guards and they are adjusting very well to playing at this level, so we expect to do very well."
#Leo Burrows scored a game high 13 in a losing effort for the Comets.
#Jordan Prince Williams 26, St George's 15: Kamari Minns poured in a game high 18 points for the Falcons to single-handedly beat the visiting Jaguars in the senior boys match-up.
#"We can be a great team. We're still a bit sluggish condition wise, but with a little more work and a little more practice, we will be where we need to be," said Jordan Prince Williams' coach Ernest Saunders.
#"I have a good group of guys. I just need them to put in a little more work so that we can come out on top."
#Hugo Nesbitt had four and Jarvis Cash three in a losing effort for the Jaguars.
#"We know we have a young team and coming into Nassau it would help us to get better," said St George's assistant coach Calvin McIntosh. "Despite the fact that we didn't win, I think we got what we expected out of the trip here."
#Doris Johnson A 36, CI Gibson B 27: Laterrio Young scored 15 points, including 10 in the second half as the Mystic Marlins senior boys built on their 22-12 lead at the half.
#"I feel good because we have grown by leaps and bounds since we started in October," said CV Bethel's coach Kevon Spence.
#"The guys are getting used to the system that I am trying to implement. As time goes by, I know they will get more comfortable and we will perform even better."
#Cavalle Ferguson scored nine points and Prince Wheatley added six in the loss for the Rattlers.
#Doris Johnson A 36, Charles W. Saunders 24: Laterrio Young scored 10 points and Ryan Lynes, Fernando Lubin and Khyze Smith all scored six in the win for the Mystic Marlins, who led 18-13 at the half.
#Romial Strachan and Raymon Woodside both scored five and Leroy Gray, DeQuan Strachan and Treymon Wright all added four in the loss for the Crusaders. CV Bethel 24, Agape 15: Jahliel Minnis scored 10 and Mannie Dorely added eight points for the Stingrays in their senior boys win. They led by 7 at the half.
#Dashawn Smith scored seven and Anthony Mertil had six in the loss for the Eagles from Abaco.
#Teleos 34, Government High 12: Drew Bethel scored 10 points for the Cheriums' senior boys, who led 20-4 agt the half. Darrol and Gerkai Stubbs both scored three points in the loss for the Magicvmen.
#St John's 23, CH Reeves 11: Kymani Butler had 11 and Leonardo Rolle 10 to lead the Giants, who led 23-11 at the half in their junior boys game. Jamie Perez had seven in the loss.
#Jordan Prince Williams 21, Agape 13: Michael Munnings scored 11 points, including nine in the first half of their junior boys game as the Falcons surged ahead 13-8 at the half. Joshua Cornish had six, Tayshawn Clarke four and Judah McIntosh three in the loss.
Here's a look at today's games:
#9am – CI Gibson (A) vs Doris Johnson (senior boys)
#9:30am – Jordan Prince Williams vs CI Gibson (senior boys)
#10am – CC Sweeting vs Queen's College (senior boys)
#10:30am – D Johnson (A) vs CW Saunders (senior boys)
#11am – SJ College vs DW Davis (junior boys)
#12pm – Jordan Prince Williams vs Agape (junior boys)
#12:30pm – CV Bethel vs Freedom Baptist (senior girls)
#1pm – CI Gibson vs St Augustine's College (senior girls)
http://www.tribune242.com/news/2022/dec/30/providence-storm-basketball-holiday-classic-champi/?news