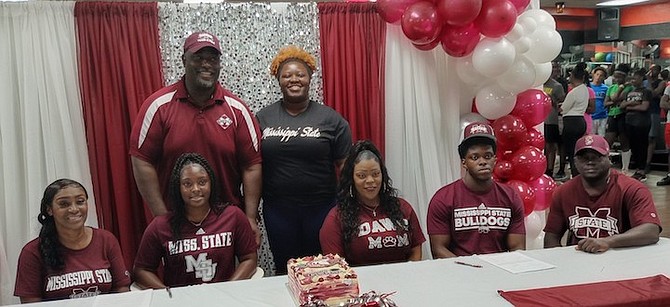 DREAMS COME TRUE: Coaches Corrington Maycock and Laquel Harris stand behind throwers G'Shan Brown and Kaden Cartwright and their parents Philippa and Leslie Cart.
As of Friday, November 10, 2023
#By BRENT STUBBS
#Senior Sports Reporter
#bstubbs@tribunemedia.net
#It was a dream come true for Blue Chips Athletics Club javelin throwers G'Shan Brown and Kaden Cartwright.
#The two Queen's College 2023 graduates signed their names on the dotted line for their athletic scholarships yesterday at Empire Fitness Gym to attend Mississippi State University in August.
#They became the 12th and 13th athletes from the Blue Chips Athletics, headed by coach Corrington Maycock, since the club was formed in 2016. Maycock, who is assisted by Laquel Harris, told the rest of the younger members and parents that they will continue their mandate to get their athletes off to college when the time comes.
#"This is the part that makes me so happy when I see these athletes sign their college papers," Maycock said. "Getting the yearly awards and other awards is important, but when they can get these athletic scholarships, it makes me so proud because their parents won't have to spend all that money on their education."
#Harris, who returned home to assist the local athletes after she completed her tenure at Shaw College, said Brown and Cartwright are two hard working individuals who deserve the opportunity to go to college.
#"They both came a long way," she stated. "Their blood, sweat and tears have finally paid off. They made it. Now they are here. They claimed their prize tonight."
#G'Shan Brown
#For Brown, the environment and coaching staff at Miss State was exactly what tipped the scales in her making the decision for college.
#"Everyone was friendly when I made my official visit there," she said. "I love it."
#Accompanied by her mother Judy Brown, Brown said it's a great feeling to finally sign the deal because she didn't know whether or not it would have happened for her.
#"To actually see it unfold today is just an awesome feeling," she stated. "I couldnt believe that I'm going to division one. I just hope to get better and get my education and secure my degree."
#Her mother Judy said she's proud of her daughter's accomplishment because she worked very hard to get to this point.
#"She has been doing track and field since the fourth grade, but she started doing the javelin recently, so to reach this degree is just a blessing. I expect great things because I know she will work hard to reach her goals."
#Mother Brown said she's delighted to be a part of Blue Chips Athletics and especially to be around coach Maycock, who made it so easy for her to excel.
#"I love my coach to death. He has pushed me to be the best. He never let me hold my head down. He put up so much with me and I love him for that, " the younger Brown quipped.
#Kaden Cartwright
#Cartwright said he was "pretty excited and happy" when he got the news that he achieved the scholarship. He said "all the hard work paid off" and now he doesn't have to "worry my parents about any school money for the next four years."
#Like Brown, Cartwright said he selected Miss State because of what he experienced with the coaching staff and the athletes on their track team, who have already expressed their keen interest in having both of them join them next year. "The SEC is one of the best conferences in college and, for a long time, I was hoping that I got a chance to compete in it," he said. "I'm expected to compete there, especially with Keyshawn Strachan, who is at Auburn. Hopefully, we can get into some good battles together."
#His mother Philippa Cartwright said she's proud of her son and she owes it all to God for allowing him to get through all of his ups and downs.
#"Trust me, I'm very proud of him. I don't have any worries about him, especially with his school work, so I just hope that he can continue to stay focused and go there and do what he has to do to succeed."
#His father Leslie Cartwright said he could not be prouder for his son. "He did well. He always did well. When we went on the tour, I was so pleased with the school that he is going to go to," the elder Cartwright said.
#"It's a good environment and so I know that he will do very well.
#"I'm expecting great things and I can't wait to go on the plane to watch him when he competes in his first meet.
#"I just can't wait to see him excel. I can't wait for the coaches to get started in developing him. It seems like he's in great hands, just like he was here with Blue Chips Athletics and coaches Maycock and Harris."
#Both parents said they are appreciative of the role that coach Maycock played in the nurturing of their son and they hope that God will continue to bless him for the commitment that he's making to the athletes in the club.
#Leslie Cartwright said coach Maycock delivered on his promise when he told his son when he got started that he would get him in college and he came through in getting him into a good division one school.
#On hand to lend his support as usual was Drumeco Archer, president of the Bahamas Association of Athletic Associations.
#"Track and field is a ministry and people who take their ministry very seriously produce great fruits," Archer said. "This has always been the mission of my administration to be able to do good work and leave an everlasting impact on the sport.
#"We need a successive plan and it is returning back to the sport or making a meaningful contribution to society. That's always my objective, developing young athletes as good citizens of this country."
#Archer said this can only encourage the younger athletes to discover themselves and so he commended coaches Maycock and Harris for instilling the sense of pride in the members of Blue Chips Athletics.