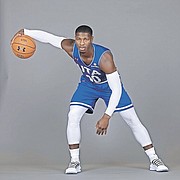 RADSHAD Davis scored a career high 28 points to lead the FIU Panthers to an 82-75 win over the Division II Flagler Saints.
#By RENALDO DORSETT
#Tribune Sports Reporter
#rdorsett@tribunemedia.net
#RADSHAD Davis joined the Florida International University Panthers as a graduate transfer expected to have an immediate impact on the programme with his experience.
#Through two games he has done just that and has already produced a career high scoring effort on the opening weekend.
#Davis scored a career high 28 points to lead FIU to an 82-75 win over the Division II Flagler Saints, in the second matchup between the schools across a three-day span.
#In the best shooting night of the career, he shot 10-12 from the field and was 7-9 from three-point range.
#He also added nine rebounds, five steals and two assists in 27 minutes.
#"In the second half I just stuck with what we practiced and did what we do, go out there, compete and let everything else handle itself," Davis said.
#"I just want to come here and do what I do which is go out there and compete everyday, play hard and make my teammates better."
#In the two games against Flagler, Davis averaged 21.5 points, eight rebounds and four steals per game. He shot 62.5 percent from the field and 58.8 from three-point range.
#Panthers leading scorer Antonio Daye Jr said Davis has been a welcomed addition to the programme.
#"Radshad hit some big shots. I kept telling him during the game and on the bench that he's a baller," he said. "This is my first year playing with him obviously and I love it. He makes my job so much easier coming off screens and just him being there I know he will hit shots, play hard and rebound the ball, so I love it."
#FIU is scheduled to continue their five-game homestand tonight at 7pm when they host the Central Michigan Chippewas.
#Davis transferred to the Panthers in Conference – USA after a two-year stint with the Texas – Arlington Mavericks in the Sun Belt Conference.
#Ahmard Harvey is currently a sophomore for the Coastal Carolina Chanticleers in the Sun Belt. He made his season debut with six points and two rebounds in just eight minutes of his team's 117-68 win over North Carolina Wesleyan.
#"We played very well from start to finish, and we knocked down shots from the inside and outside," said Coastal head coach Cliff Ellis.
#"I was pleased with what I saw. We are a deeper team than we were last year."
#Coastal's next contest will be December 3 at home against Columbia International.
#Harvey has played sparingly in his freshman season with the Chanticleers. He averaged 1.5 points and 1.5 rebounds per game in 17 appearances.
#He posted a season high seven points in a November 30 matchup against Delaware State.