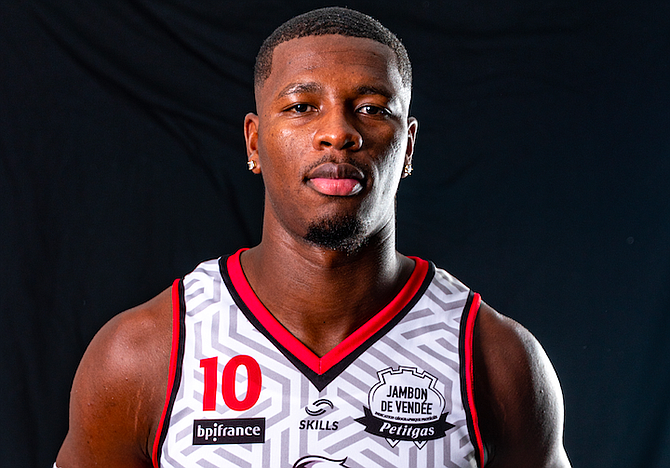 Radshad Davis
As of Thursday, October 6, 2022
#By RENALDO DORSETT
#Tribune Sports Reporter
#rdorsett@tribunemedia.net
#Radshad Davis made his French debut and is off to a noteworthy start with Vendee Challans Basket of the Nationale Masculine 1 League.
#The second year pro has averaged 13.5 points, 4.5 rebounds and two assists per game as the club split their first two games on opening weekend.
#In the season opener, he finished with 11 points, four rebounds, three assists and two steals in an 89-67 win over C'Chartes.
#He followed with a team high 16 points on 7-10 shooting from the field, and five rebounds in a 74-71 loss to Loon-Plage.
#"I'm super excited to join the team and bring my experience to win the championship," Davis said at the time of his signing this summer. "It's great to join the club and I expect it to be a great experience."
#The NM1 is the professional level third-tier division in France. The two top teams from each season of the competition are promoted to the LNB Pro B, which is the French second division
#Challans head coach, Sebastien Lambert, said the versatile Davis should help bolster the lineup at several positions.
#He is a powerful wing player who is coming off a very interesting season in Europe.
#"He will be a very good complement between our guards and our forward positions," Lambert said. "He likes to attack the rim and has a reliable outside shot. He is a complete player who also takes a lot of rebounds and who still needs to develop his creative side. He will have to adapt to a new culture and a different league but I know that the people of Challans will know how to welcome him as they should so that he feels happy to defend the colours of the VCB."
#The club finished 13-19 last season in Group C.
#At the national team level, Davis recently participated in the latest window of the FIBA World Cup '23 Americas Qualifiers.
#The Bahamas clinched qualification with a 97-80 win over the US Virgin Islands on July 1. Davis finished with 12 points off the bench.
#Davis played in four games of the qualifying windows and averaged 6.5 points and 2.3 rebounds per game. He spent his first pro season last year with Decolor Fundacion Globalcaja La Roda in the LEB Silver League. The LEB Silver is the third tier in the Spanish basketball league system, after the Liga ACB and LEB Gold.
#In 26 games, he averaged 13 points, 5.5 rebounds, and 1.3 steals per game. La Roda finished sixth in the East Division at 14-12.
http://www.tribune242.com/news/2022/oct/06/radshad-shines-france-debut/?news