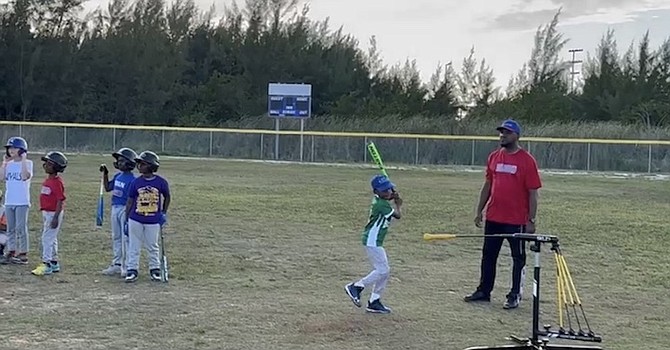 THE RELOADED Baseball invitational kicks off March 31 through Sunday at the Baillou Hills Sporting Complex. The general public is invited to its first ever invitational games, where the young ballers in Nassau will face off against Family Island teams in three divisions this weekend.
As of Thursday, March 30, 2023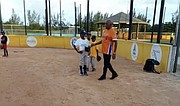 #By JEFFARAH GIBSON
#Tribune Writer
#jgibson@tribunemedia.net
#RELOADED Baseball, a new programme with the sole interest of developing youth in baseball fundamentals and skill set, is inviting the general public to its first ever invitational games, where the young ballers in Nassau will face off against Family Island teams in three divisions this weekend.
#The invitational kicks off tomorrow (March 31) through Sunday at the Baillou Hills Sporting Complex. It will feature games over the course of the weekend in Coach Pitch, 10U and 12U divisions.
#The official Reloaded Baseball teams in Nassau will engage in friendly matchups against Family Island teams, including Abaco Youth Baseball and Softball led by Tory Feaste, Twin City Baseball League (Palmetto Point, Eleuthera) led by Elline Sineus and Grand Bahama Athletics led by Oscar Greene.
#The general public is invited to attend the games which are also a fundraising initiative sanctioned by the Bahamas Baseball Association.
#Food for the event will be offered by Blue Plate Catering and will support the development of youth in baseball, a fast-growing sport in The Bahamas.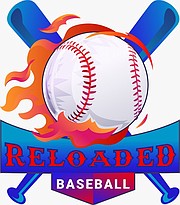 #Much more than friendly match-ups, Reloaded Invitational games were executed with the goal of creating more opportunities for local competition for youth baseball players across the islands – something the Reloaded team believes has been lacking.
#Started by a group of coaches/parents, Reloaded seeks to help develop kids with sound baseball skills and on the field intelligence.
#Peron Burnside, an executive team member of Reloaded, shared the genesis of the programme.
#"Reloaded came about after attending a PG Tournament (Orlando) in the summer of 2022 because of the noticeable disparity in skill level between us and our international counterparts. A few of us coaches made a conscious decision to chart the way forward in the fundamental development of our kids," he said.
#And upon their return, Reloaded Baseball came into being.
#"We focus on developing the fundamentals of the game. We also wanted to have a programme that did not put any financial burden on the parents and hence we fund everything internally without any charges to the parents. We cover all the costs for our kids in the programme and our motto in Reloaded is that there is not going to be any child left behind in our programme."
#Mr Burnside said education is also a main thrust of the programme. "We have laid out in our plans to assist kids who may fall behind academically and bring them back to where they need to be. Our ultimate goal is to, through our international connections, to walk our kids into scholarships."
#In pursuit of development, Reloaded Baseball engaged Family Island teams to start some interactive play between the teams and it was widely welcomed. "The sentiment is that this is lacking in the country and is much needed. We then plotted out as to how to start this process and hence the first inaugural Reloaded.
#The Reloaded Team is in pursuit of helping out our family island teams and have offset some of the cost to come to the Reloaded Invitational and we aim to assist in their development moving forward.
#"We are nonprofit and fund our programme internally so hence the need for fundraisers that we hold to finance our programme," he said.
#Moving forward, Reloaded Baseball has engaged international coaches and organisations to assist in the development of all of the kids in the programme.
#The Reloaded executive team and coaches consists of: Peron Burnside, Mandell Curry, Tarah Curry, James Clarke, Lisa Bostwick Dean, Javier Bowe, Desmond Ferguson, Barry Nairn, Kennellis Gibson, Stephen Hubert Beneby (Bishop), Thalia Culmer, Kenue Mcphee, Dcarl Rolle, Jay Seymour, Javardo Bain.
#The Reloaded programme also extends thanks to the National Sports Authority members Moses Johnson (general manager) and Martin Burrows (deputy manager of baseball Stadium) who have collaborated and been supportive in this process.
#"It takes a village to raise a child and we have fortified a strong core or personnel to assist in our development journey," Mr Burnside said.
http://www.tribune242.com/news/2023/mar/30/reloaded-baseball-invitational-kicks-friday-sunday/?news