As of Monday, November 20, 2023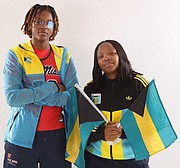 Rhema Collins and coach Yolett McPhee-McCuin.
#By TENAJH SWEETING
#Tribune Sports Reporter
#tsweeting@tribunemedia.net
#AMONG the Bahamians cheering on the University of Mississippi Ole Miss Rebels today in the Battle 4 Atlantis women's championship game includes rookie forward Rhema Collins.
#She has been unable to compete in this weekend's third Battle 4 Atlantis women's tournament due to a concussion which has kept her sidelined since the start of the season.
#Despite being inactive in the team's quest to their first Battle 4 Atlantis title, she is very supportive from the sidelines.
#"I am very proud of my team. First of all, we went through a lot of adversity. We have been challenged and I think that was good for us and I am happy that we pulled out with the win," Collins said. Her team, the Ole Miss Rebels, collected back-to-back wins against the Howard University Bison on Saturday and University of Arizona women's basketball team on Sunday en route to the final game of the three-day tournament.
#The 6-foot, 2-inch forward reflected on how it has felt to be the second Bahamian since Valerie Nesbitt (2020-21) to be apart of Coach Yolett McPhee-McCuin's women's basketball programme.
#"It is a great feeling, it is a once in a lifetime opportunity and I am glad I came to Ole Miss. I feel very comfortable, I feel at home and I see myself being there," she said.
#Despite being under concussion protocols, the former junior national team player is remaining optimistic as the National Collegiate Athletic Association (NCAA) D1 2023-24 season rolls on.
#"I plan on getting better, and stronger I know this concussion was a minor setback but I know it will all workout in the end," the forward said.
#When she does return to the basketball court, Collins will look to transition into a guard role with the Ole Miss Rebels and wants to improve on some aspects of her game.
#"Definitely ball handling, Coach Yo and I have a whole plan for me to be a guard I don't see myself in the post area. I plan on being a big guard," she said.
#Last year, Collins was recruited by multiple division one schools but opted to join the Ole Miss Rebels. Before her transition to the collegiate level, she helped the Webb School to collect back-to-back Tennessee Secondary School Athletic Association (TSSAA) Division II- A State Championships in 2021 and 2022. Additionally, she represented The Bahamas at age 14 in the 2019 Centrobasket U17 Women's Championships.
#The Ole Miss Rebels take on the University of Michigan Wolverines in the championship game at noon today in the Imperial Arena, Paradise Island.