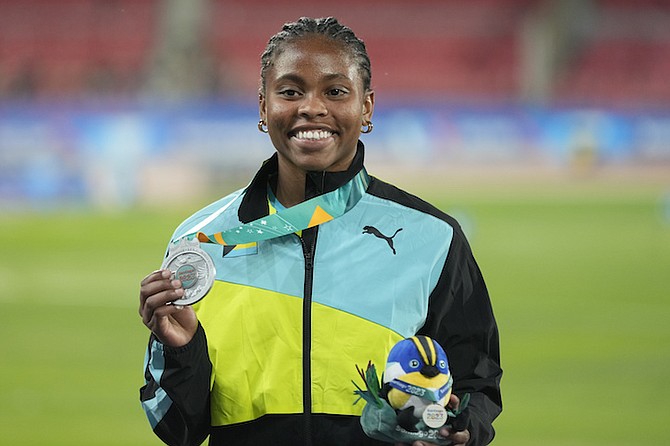 RHEMA OTABOR, of The Bahamas, poses with her silver medal on the podium during a ceremony for the women's javelin category, at the Pan American Games in Santiago, Chile, on Friday, November 3, 2023. (AP Photo/Moises Castillo)
As of Monday, November 6, 2023
#By BRENT STUBBS
#Senior Sports Reporter
#bstubbs@tribunemedia.net
#Rising javelin star Rhema Otabor added her first international medal to the gold she won at the National College Athletic Association's (NCAA) Track and Field Championships with a silver at the Pan American Games.
#In her debut at the Pan Am Games on Friday in Santiago, Chile, 20-year-old Otabor claimed her medal with a heave of 198-feet, 7 1/2-inches or 60.54 metres on her first attempt. She followed with marks of 194-7 ½ (59.32m), 190-7 (58.09m), 187-5 ¼ (57.13m) and 189-1 ¼ (57.64) before she scratched her final toss.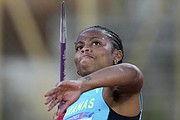 Bahamas' Rhema Otabor competes in the women's javelin throw final at the Pan American Games in Santiago, Chile, Friday, Nov. 3, 2023. (AP Photo/Fernando Vergara)
#Flor Denis Ruiz of Colombia captured the gold with 207-0 1/4 (63.10m) on her first attempt as well. The bronze went to American Madelyn Harris with 197-0 ½ (60.06m) on her second try.
#After her performance, Otabor said she was delighted to win the medal and to have performed so well this late in the season.
#It was her second international meet for the Bahamas in her breakout year, coming off her debut at the World Championships in Budapest, Hungary, where she was 33rd overall.
#"I'd say it was kind of expected because I've been having practices lately where I've been throwing 60 metres or very close to it with some consistency," Otabor said.
#"But all in all, I'm just glad that what's been happening in practice I was able to replicate it in the actual competition, injury free."
#Looking at the competition, Otabor said it was a great field of competitors with a few over 60-plus meter throwers and others that were in the high 50s.
#"So, coming in I knew it was stiff competition," she reflected. "But I wasn't necessarily putting too much pressure on myself to do well, I just wanted to feel good, have fun and carry out good technique throughout the whole thing."
#As she heads back to college for her senior year as a Husker at the University of Nebraska where she will be defending her NCAA Championship title, Otabor said she will focus on training in her bid to qualify to compete in the next stage of her development at the Olympic Games in Paris, France in 2024.
#She is setting the pace for her brother, Michaelangelo Bullard, who is also competing in the javelin. Thery are both members of the Blue Clips Athletic Club, headed by Corrington Maycock. She attributes her success to the support also from her aunts Tiffany Bullard and Leetia Dean.