WINNERS show off their awards at the Regattas in The Abacos 2023, which officially set sail on Sunday.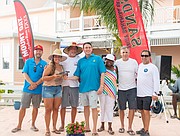 RITAS JP with first race winner were Spinnaker, 'Rockstar', Non-Spinnaker, 'Contrails' and Multihull, 'Catabatic'.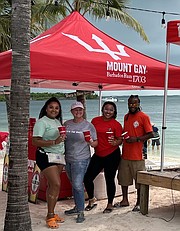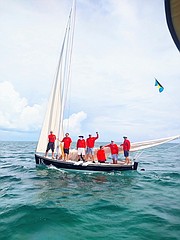 Lonesome Dove – 1st Place.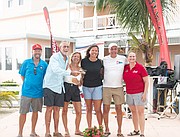 First PHRG non-spinnaker fleet.
#ABACO, The Bahamas – The art of sailing took centre stage as the highly anticipated Regattas in The Abacos (RITA 2023) officially set sail on Sunday, June 25.
#The return of the annual summer regatta has attracted various racing sailing boats to compete in five races being staged throughout the Abacos, after a nearly three-year hiatus following the passage of Hurricane Dorian.
#"Unlike the traditional Bahamian sloop regattas which take place in one settlement," explained RITA committee organiser Dwayne Wallas, "each race in this regatta starts on one cay and ends on another cay."
#The first in a series of specially planned events kicked off with a vibrant launch party at Pete's Pub in Little Harbour, Abaco.
#Boaters arriving at this picturesque location were treated to the sounds of calypso accompanied by the refreshing taste of Sands Beer and signature Mount Gay Rum cocktails.
#Mount Gay Rum has a global reputation for supporting sailing regattas.
#"The brand is providing exclusive merchandise to participating sailors as well as refreshments at all events. Sands Beer will also support all pre and after-event celebrations, according to a press release.
#"Sands Beer has also sponsored 'The Lonesome Dove,' a B-Class sloop from Hope Town, Abaco, that has garnered several multi-podium finishes at different regattas, including the recent National Family Island Regatta.
#"Sands Beer and Mount Gay Rum are proud sponsors of Regatta in the Abacos," said Diane de Cardenas, Jimmy's Wines and Spirits assistant general manager for Nassau and The Family Islands.
#"Sands Beer has always embraced sailing culture even in our branding, which features the iconic man in the boat," she noted.
#"Our continued sponsorship of regattas and other sailing events reinforces the company's commitment to its truly Bahamian roots."
#On Saturday, organisers had both a welcome party and a skippers' meeting held at the Jib Room Marina, which has been completely reconstructed after the devastation of Hurricane Dorian.
#Sunday saw the start of the five races, with 19 vessels taking to the water to participate, competing to win the three fleet categories – Spinnaker, Non-spinnaker and Multihull.
#Winners for race one on Sunday from Marsh Harbour to Hope Town; were Spinnaker, 'Rockstar', Non-Spinnaker, 'Contrails' and Multihull, 'Catabatic'.
#Race two took place on Monday from Hope Town to Guana Cay and saw all new leaders in each category except in the Multihull category; winners for the second RITA races were Spinnaker, 'NautOnCall', Non-Spinnaker, 'Lonesome Dove' and Multihull, 'Catabatic'.
#Already dubbed a roaring success, RITA 2023 is expected to continue delighting participants with three more exhilarating boat races.
#As the event unfolds, participants and spectators alike are anticipating the upcoming races and to see who will be crowned champions after the last race on Saturday, July 1.
#Results can be found on the RITAwebsite: regattasintheabacos.com. "Mount Gay Rum and Sands beer are proud to be Gold Sponsors of this annual favourite regatta," said Gerry Summers, Abaco marketing executive for Jimmy's Wines & Spirits.
#"The regatta has had a significant positive impact on local businesses already. Car rentals, villa rentals, marinas, restaurants andbars are experiencing a notable surge in patronage, benefitting from the influx of visitors and the vibrant atmosphere surrounding the regatta."
#According to John Pinder, the Member of Parliament for Central and South Abaco, RITA 2023 is not only a catalyst for Abaco's revival, but further opens the door to create greater opportunities for cultural tourism.
#"We're not just bringing back Regatta In the Abacos" he noted.
#"But we're looking to expand on the many sailing programmes that currently exist here and give Abaconians even more opportunity to showcase their skills as sons and daughters of the sea," Pinder stated.