BOOKS ANOTHER TRIP TO THE GREAT EXUMA CLASSIC
As of Friday, November 18, 2022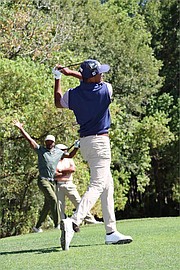 DEVAUGHN Robinson
#By BRENT STUBBS
#Senior Sports Reporter
#bstubbs@tribunemedia.net
#DEVAUGHN Robinson booked another trip to the Great Exuma Classic by winning the Bahamas Professional Golf Association's Korn Ferry Qualifier by five strokes on Monday at the Ocean Club Golf Course on Paradise Island.
#Robinson, an architect by profession now residing in Grand Bahama with his family, won the pair of 18-hole rounds of golf in the morning and evening sessions with scores of one-under-par 71 and six-under-par 77 for a total of seven-under-par 134 to earn the rights to represent the Bahamas in Exuma January 15-19.
#Keno Turnquest was the runner-up with a two-under-par 148 with his rounds of 74-68. C Riley was third with even-par 72-72 for 144 for third place. Rising young players Heathcliff Cane was fourth with 80-76 for 156 and Alex Dupuch rounded out the top five with 70-80 for 158.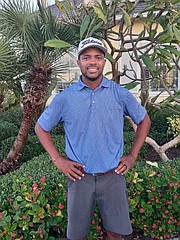 DEVAUGHN Robinson
#Association president Raquel Riley said she was pleased with the eight golfers who participated, including two amateurs, although they had anticipated a bigger field of competitors, some of whom had other obligations and were unable to participate.
#"We had some good competition on Monday," Riley said. "It went great. Keno (Turnquest) or treasurer and Chris Lewis from overseas, helped to assist me in putting the event on. The golf course was in pretty good shape.
#"They walked the first 18 holes and drove the next 18 in the 36-hole qualifier that was opened to Bahamian professional players and amateurs with handicaps of point five or less. We had a lot of players who couldn't play for one reason or the other, but we had a really good time."
#With veteran golfer Jimmy Delancy as his caddie, Robinson said all he had to do was go out and execute his game.
#In the process, he will earn $500 from the BPGA to assist with his travel arrangements to Exuma, according to Riley.
#"In the first round, I got off to a pretty shaky start. In the first two holes, I think I was two-over-par. I played pretty steady. I just didn't make any putts in the first round," Robinson said. "It was a round that could have been if I was a little better on the greens.
#"I wasn't disappointed. I knew I was going to be around the lead or close enough to strike in the second half. I had a one-shot lead at the end of the first round, which gave me a lot of confidence going into the second round."
#After the break to talk things over with Delancy, Robinson readjusted his game and played up to his full potential.
#"Unlike the first round when I played my C game, I was close to my A game in the second round," Robinson noted. "I missed a few shots, but I played a very strong second round to get the job done."
#This is the third time that Robinson would have qualified for Exuma where he will get to match up with some of the world's best as they travel to the Bahamas for the first of two tournaments in Exuma.
#"This is our fourth year getting a local exemption into the tournament and this is my third year getting it, but the second time playing in it," Robinson said. "I'm excited about it. You don't get too many of these opportunities to play in the second biggest stage in the game and in your backyard.
#"It's a huge opportunity for me if I can take advantage of it. I'm excited to see however it goes."
#Robinson first qualified in 2018, but he couldn't make it because of work commitments.
#He came back and qualified in 2020 and played, but fell short of making the cut for the final. This time around, he hopes to advance to the final.
#"Jimmy Delancy is a seasoned veteran, old professional. He kept me pretty focused for the whole day. He stayed around for 36 holes. That was impressive for itself for a 73-year-old," Robinson said.
#"He was very well around the greens, letting me know to finish it off."
#Delancy said it was a pleasure to work with Robinson who, at 34, is the son of late golfer Walton Robinson. He noted that he is progressing very well in his game.
#"The course in Exuma suits his game because he hits the ball pretty long and it's a straight course," Delancy said.
#"It will be right up his ally, so we will be going down for about three or four days before the tournament just to get him sharp and ready."
#There's another qualifier in December for the second leg for the other tournament to be played in Abaco at the Bahamas Great Abaco Classic at the Abaco Club January 23-26.
#Riley said as soon as they can confirm the date for the qualifier, they will release the information.
http://www.tribune242.com/news/2022/nov/18/robinson-wins-bahamas-professional-golf-associatio/?news