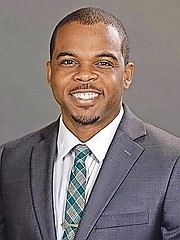 Jermaine Rolle
#By RENALDO DORSETT
#Tribune Sports Reporter
#rdorsett@tribunemedia.net
#Bahamian administrator Jermaine Rolle has been appointed to a major post at an NCAA Division I programme.
#Rolle was named the Deputy Director of Athletics for the University of Wisconsin Green Bay Phoenix, with responsibilities for "compliance and student-athlete service."
#The Phoenix compete in the Horizon League and fields six men's teams, eight women's teams, and one coed NCAA sanctioned sport (cross-country skiing).
#"I am thrilled to be joining the Phoenix. I'd like to thank Chancellor Mike [Alexander], AD [Charles] Guthrie and the search panel for providing me this opportunity and having the confidence that I'll be an asset to Green Bay athletics. I was highly impressed with the search panels' enlightenment on the culture and supportive environment at Green Bay. I look forward to hitting the ground running and serving the student-athletes, coaches and University community to the best of my abilities."
#According to the Phoenix Athletic Department, Rolle will head all aspects of D-I and Horizon League rules and regulations. He will also work alongside the Student Athlete Advisory Committee (SAAC) and sports oversight in cross country, golf, nordic ski and swimming and diving.
#Rolle previously served as assistant director of athletics for compliance for the Holy Family University Tigers which featured 14 D-II teams. He then moved to the Minot State Beavers, also a D-II programme, where he served as the associate director of athletics for Compliance and Student Life.
#"Green Bay Athletics is pleased to welcome Jermaine to the Phoenix family as Deputy AD," said Guthrie.
#"Jermaine is highly regarded as being proficient in NCAA compliance and is well-known across the country for his integrity and valour in providing an exceptional student-athlete experience.
#"While Jermaine's focal point will be on the compliance and student service operations of the department, he will be a key member of our small but mighty leadership team and will be counted on to make many of the day-to-day decisions."
#The Phoenix has been widely recognised for the success of their women's basketball programme. From 2008-2013 season, the Phoenix had the third highest winning-percentage in the NCAA Division I with a 175-21 mark, trailing only Connecticut and Stanford. The Phoenix has the fifth-most wins in Division I during that same stretch.
#The Phoenix entered the 2017–18 season on a string of 40 consecutive winning seasons, with only Tennessee having a longer such streak in women's college basketball. They have also won or tied for the Horizon League regular-season championship since 2000, the longest active streak in Division I NCAA women's basketball. They have been to the NCAA tournament 18 times, advancing to the second round five times and to the Sweet 16 once. The men's basketball programme reached the NCAA Tournament in 2016.