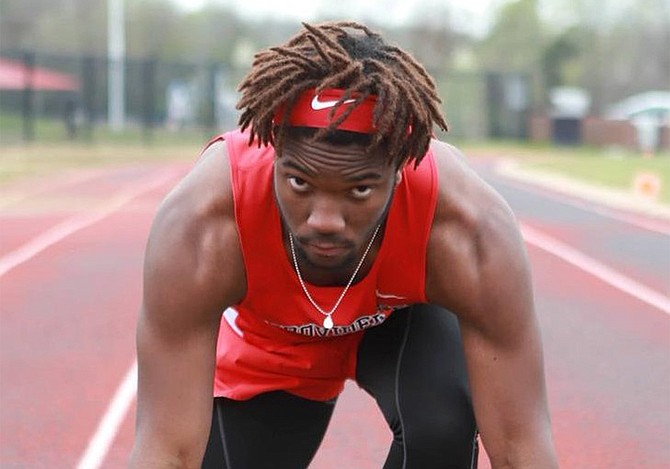 #By BRENT STUBBS
#Senior Sports Reporter
#bstubbs@tribunemedia.net
#AFTER graduating from Providence Academy as a two-sport star in track and field and basketball, Peter 'JP' Rutherford Jr, pictured, is now making his transition at Harding University in Searcy, Arkansas where his concentration will be solely on track as a sprinter.
#The 18-year-old son of Peter Chavez Rutherford as been at the division II school where he intent to pursue a degree in criminal justice since August, but he admitted that he's trying to deal with the coronavirus pandemic, which has affected his room-mate.
#"My room-mate has contracted the virus, but it's not that bad. I'm okay. I don't have any symptoms, so I feel fine," Rutherford Jr said. "I have taken the necessary precautions to take care of myself. I've doubled up on my vitamins and drink plenty fluids."
#At Harding University, Rutherford Jr said the Bison track team have already started practicing for the 2021 season and he's making the adjustment from high school to college in his freshman year.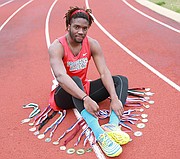 #"I'm looking forward to improving my times," he stressed. "Hopefully I can get into the weigh room and work on developing my strength."
#Although he's had a fantastic performance as a member of the Patriot men's basketball team at Providence Academy, the 6ft, 3in Rutherford Jr said he decided to focus his attention on track because he feel he have the best opportunity to succeed in the future.
#"I just want to be able to compete as well as I could for the school, just as I did for Providence," said Rutherford Jr of his expectations at Harding. "I prefer to compete in track and I know I have a chance to do very well in the sport."
#In Searcy, according to Rutherford Jr, everyone is taking the virus seriously and are doing all they can to ensure that they stay safe.
#"Everywhere we go, people are wearing masts and abiding by the rules, so that is good," Rutherford Jr summed up. "At school, we are also taking the necessary precautions. It was a bit of surprise when my room-mate got the virus, but we are dealing with it.
#"I just thank God that I don't have any symptoms and I am doing okay right now."
#As a forward, Rutherford Jr led the Patriots basketball team with an average of eight points, seven rebounds, four steals and two blocked shots. Two years ago as a sprinter on their track team, JP ran his lifetime achievement of 11.00 seconds in the 100 meters and 23.1 in the 200m.
#In December, he was sidelined with a grade-A right hamstring injury in December and had worked his way back into form and was preparing to compete outdoors this year before all sporting activities was suspended because of COVID-19.
#That hampered Rutherford Jr in his quest to secure an athletic scholarship to a more prestigious division one college. But Rutherford Jr said he's quite contended where he's at and looking forward to making his presence felt next year at Harding University.