claim first place at 2023 Bahamas ILCA Nationals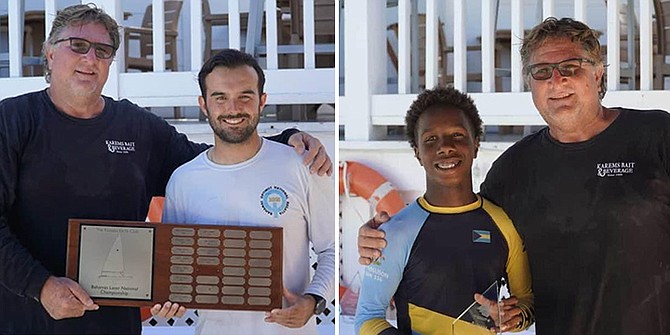 Paul de Souza (left) and Craig Ferguson ll (right).
As of Thursday, September 14, 2023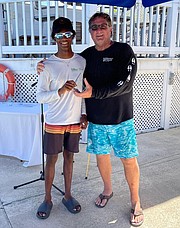 Joshua Weech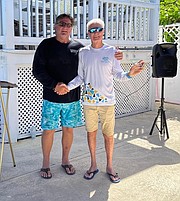 Gavin McKinney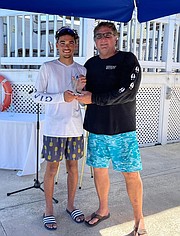 Norman Cartwright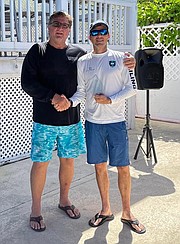 Bryan Paine
#By TENAJH SWEETING
#Tribune Sports Reporter
#tsweeting@tribunemedia.net
#Paul de Souza and Craig Ferguson ll emerged as champions at the combined 2023 Bahamas Open International Laser Class Association (ILCA) Nationals this past weekend.
#The two-day event wrapped up on Montagu Bay and saw Souza win gold in the ILCA 7 senior category. In the ILCA 6 junior portion of the combined competition, Ferguson placed first among his fellow sailors. The national championships saw stiff competition between 21 sailors from the junior and senior divisions.
#Andrew Higgs, ILCA Fleet captain, talked about the level of competition between the senior and youth sailors.
#"I am happy with the turnout we had last weekend for our 2023 Bahamas Open ILCA National Championships. The level of competition was very competitive between both our senior and youth sailors," Higgs said.
#Souza, who also serves as head coach of The Bahamas National Sailing School, came first in five of six races among his senior competitors. He ended the competition with a subtotal of eight and five points in total. Bryan Paine claimed second for the silver medal with a subtotal of 12 and overall total of nine points. He earned a first place finish, four second place finishes, and third place in the two-day event. Gavin McKinney secured bronze with a subtotal of 28 points and capped off the event with 20 points in total.
#Higgs was particularly impressed with the efforts of the youth sailors at Montagu Bay.
#"Our New Providence youth sailors have been working very hard under the coaching of Robert Dunkley and Paul de Souza improving everyday and it shows in local and international competition," he said.
#Among the youth sailors to show out this past weekend was Ferguson, who solidified the win for the juniors with a total of 28 points. Norman Cartwright came second with a subtotal of 47 points and a total of 37 points. Joshua Weech sailed away with bronze after ending the competition with a subtotal of 53 points and overall count of 42 points.
#Out of the 21 sailors in competition including five females, Ellianne Higgs ended the national championships as the top ILCA 7 female and junior sailor in the competition. In some of her best races this past weekend she finished third and second. She capped off the two-day event with a total of 24 points for fifth overall.
#With sailing being deemed the Bahamas' national sport since April, Higgs is proud of the strides and growth across all islands but is seeking more external support for sailors.
#"Now that sailing is the national sport we hope that the government will support our sailors in order for our kids to get better. They have to compete internationally and sail against the best. In the past and currently we have depended on self funding, individual, and corporate sponsorship to attend international events," he said.
#Following the 2023 Bahamas Open ILCA Nationals the next event for the sailors will be the Cecil Cooke Regatta at the Nassau Yacht Club November 4-5.