'Sandman' Kos Hawkins, Stays Undefeated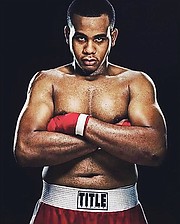 Amron 'Sandman' Sands
#By BRENT STUBBS
#Senior Sports Reporter
#bstubbs@tribunemedia.net
#Amron 'Sandman' Sands wasted little time against American Thomas Hawkins, knocking him out one minute and nine seconds into round two to remain undefeated as a heavyweight boxing contender.
#In the co-main event on Friday night at the Bryan Glazer JCC Auditorium in Tampa, Florida, Sands showed no signs of any ring rust as he returned to action for the first time since he knocked out Hector Hodge on February 16 in St Petersburg Coliseum in St Petersburg, Florida. "It was good. He actually came to fight," Sands told The Tribune after the fight. "It was good. I knocked him out."
#During the first round, the 25–year-old 6-foot-6 Sands dropped the 29-year-old Hawkins to the canvas as he contained the charging southpaw from Huston, Texas.
#"As the fight progressed, I saw more opportunities for me to go inside and work on him," Sands said.
#"I just threw the over-hand left and the right uppercut and he fell."
#Although he handed Hawkins his fifth consecutive loss in his 10 fights, Sands said he knew he could have performed better.
#"I was a little rusty, having not fought in six months," he said. "I think I would give myself a grade seven out of a 10 in this fight.
#"At certain times, I kept my guard down. If I throw the left, my right hand should be protecting my head. So I have to get back on my defence and using my jab more effectively."
#With a few days off to recuperate and enjoy his recent success, Sands will be home this week before he heads back to Orlando, Florida, to resume his training under the supervision of his coach Buck Mitchell and manager Kevin Dever.
#He's hoping to return to the ring on October 5 in Madison Square Garden.
#He's just waiting on his new management team from Dever Sports Management and promoted by DiBella Entertainment to send him the official contract.
#Sands' promoter is Lou DiBella, the second biggest promoter in the sport. "They like what they saw in the fight, coming off the long lay off," Sands said. "They have indicated that they hope to keep me more active as I will start to get some bigger fights in the future."
#During his brief time here at home, Sands hopes to stay sharp by working out with his original and local coach Ronn Rodgers at the Strikers Boxing Club on Wulff Road.
#While rehabbing an injury he sustained playing basketball, Sands was introduced to Rodgers, who helped guide him through an extensive amateur career with a 40-3 win-loss record. Under Rodgers, Sands officially became a pro fighter in his successful debut on August 5, 2017 against Julio Mendoza at the Lakeland Event Center in Lakeland, Florida.