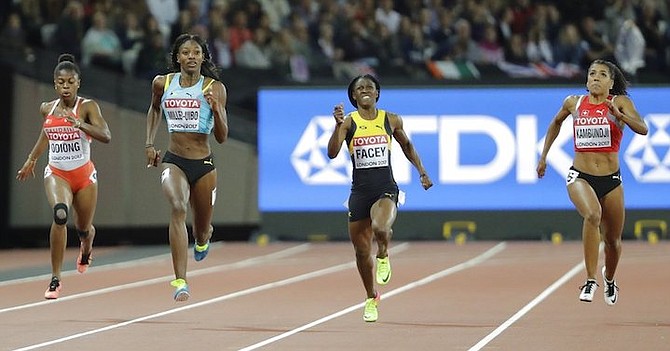 Bahrain's Edidiong Ofonime Odiong, Shaunae Miller-Uibo, Jamaica's Simone Facey and Switzerland's Mujinga Kambundji race in their women's 200m semifinal heat. (AP Photo/David J. Phillip)
#By BRENT STUBBS
#Senior Sports Reporter
#bstubbs@tribunemedia.net
#LONDON, England: It was a day of redemption for national record holder Shaunae Miller-Uibo and an emotional one for TyNia Gaither as they both booked their ticket to an historic women's 200 metre final for the Bahamas at the 16th IAAF World Championships.
#It will be the first time that the Bahamas has had two competitors in the event which takes place on Friday at 4:50pm EST. But Anthonique Strachan, the other Bahamian contesting the semifinal on Thursday inside the Queen Elizabeth Olympic Stadium, failed to make the cut.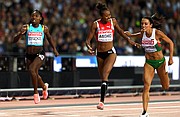 Anthonique Strachan runs in her semifinal heat. Photo: Kermit Taylor/Bahamas Athletics
#Strachan, the first of the three competitors to compete in the three heats, came off the curve out of contention and wasn't able to make up any ground as she finished eighth in 23.21 for 16th place overall.
#However, a rejuvenated Miller-Uibo, looking well rested and confident coming off that disappointing 400m final on Wednesday night, didn't leave anything to chance as she powered from behind for her victory in 22.49 seconds.
#"I felt fine. I just want to go out and put on a great show tomorrow night," said Miller-Uibo, as she matched the qualifying time of defending champion Dafne Schippers of the Netherlands in winning heat two that featured Strachan. "I had to refocus for the 200m and now I'm ready to compete."
#Miller-Uibo also cleared up any misconceptions about what transpired in the final 50 metres of the 400m final was won by American Phyillis Francs, followed by Silva Eid Naser from Bahrain and American Allyson Felix.
#"I had the race under control, everything felt fine and then I took a look up at the screen, lost my balance and that was about a wrap up," she said. "By the time I caught myself, the race was already done, so I live and I learn through it. I'm getting over it and focusing on the 200m."
#Gaither duplicated Miller-Uibo's feat, reeling in two competitors for fourth place in 22.85. It turned out to be the last of two fastest qualifiers that earned her a trip to her first global final.
#As she entered the mixed zone to speak to the media, Gaither's performance brought her to tears.
#"It's the best feeling in life," said Gaither, who is making her breakthrough in her first professional season. "My season was so long and so hard. I fought hard for that. To be able to do that is a blessing."
#When the final is contested on Friday, Miller-Uibo and Gaither will be out to become the first Bahamians to medal in the event in the championships since Debbie Ferguson-McKenzie was elevated from silver to gold due to a doping violation by American Marion Jones in 2001 in Edmonton, Canada.
#Miller-Uibo, 22, has the second fastest time for the year at 21.91 behind her American training partner Tori Bowie, who had to withdrew from the 200m after she tumbled over and bruised herself at the end of winning the 100m title. Miller-Uibo's national record is set at 21.971.
#Gaither, 24, was tied with Jamaican Shashalee Forbes with the 13th best time of 22.71. Gaither has a personal best of 22.54.
#The lane assignments for the final have Canada's Crystal Emmanuel in two, Gaither in three, 100m silver medalist Marie-Josee Ta Lou from the Ivory Coast in four, Miller-Uibo in five, Schippers in six, American Daejah Stevens in seven, Great Britain's Dina Asher-Smith in eight and American Kimberley Duncan in nine.