Shaunae Pulls Out With 'Nagging Hamstring'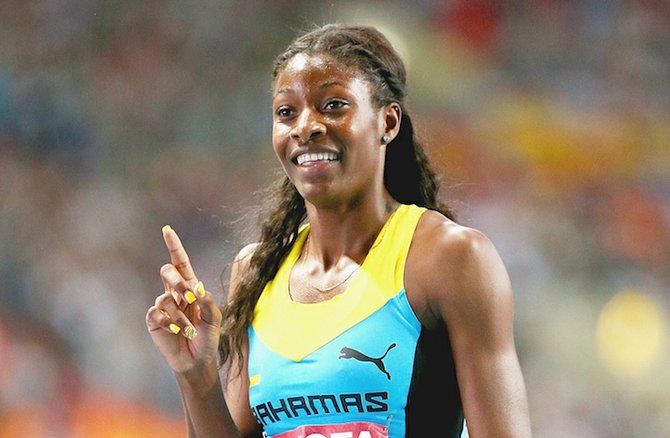 #By BRENT STUBBS
#Senior Sports Reporter
#bstubbs@tribunemedia.net
#A "nagging hamstring issue" has forced quartermiler Shaunae Miller to withdraw from participation as a member of Team Bahamas for the International Amateur Athletic Federation (IAAF) World Relays at the Thomas A Robinson Stadium this weekend.
#In an official statement from Claude Bryan, chief executive officer of On Track Management Inc., the agency for Miller, the exact reason for her withdrawal was disclosed only a few days before the competition begins on Saturday.
#"Regretfully, Shaunae Miller will be unable to compete at the inaugural IAAF World Relays this coming weekend due to a nagging hamstring issue," said Bryan in his release. "Her doctor and coach have been working assiduously to get her to a state of race readiness, however, despite their best efforts, she is a week shy of that goal."
#Miller, 20, was originally named to Team Bahamas' pool for the women's 4 x 200 metres. Efforts were being made to have her run in both the 4 x 100 and the 4 x 400m, but that request was reportedly rejected by her agents and coaches.
#Bryan, in response to the report, expressed a hearty thanks to the Bahamas Association of Athletic Associations and its president Mike Sands for his considerate understanding and encouragement.
#"Additionally, Shaunae, who will still attend the competition in her role as Adidas/IAAF World Relays Ambassador, wishes to convey both her regret at her inability to compete in front of her adoring home crowd as well as her best wishes to Team Bahamas," Bryan said.
#Miller, who was in town last week, returned to Georgia where she was evaluated by the doctor. According to Bryan, Miller is trying to focus on her recovery as she prepares to return home this weekend for her obligations to her sponsor and the IAAF.
#When contacted, Sands said he will reserve comments until today's daily press conference at the Ministry of Youth, Sports and Culture.
#Team Bahamas coaches Rupert Gardiner and Fritz Grant have indicated that they are working on putting the best quartet together to represent the Bahamas in the relay events the Bahamas is entered in.
#It should be noted that Miller is not the only athlete named to the team who will not be competing. Veteran sprinters Debbie Ferguson-McKenzie and Derrick Atkins both withdrew because of injuries.
#According to the coaches, there are a few athletes on Team Bahamas who are nursing some injuries that they are working to minimise before the relays get underway on Saturday.
#The Bahamas is fielding teams in both the men's and women's 4 x 100, 4 x 200 and 4 x 400m relays. Team Bahamas is expected to be formally introduced during the press conference today after an adjustment was made to the original list that was produced at a pep rally on Arawak Cay two weeks ago.