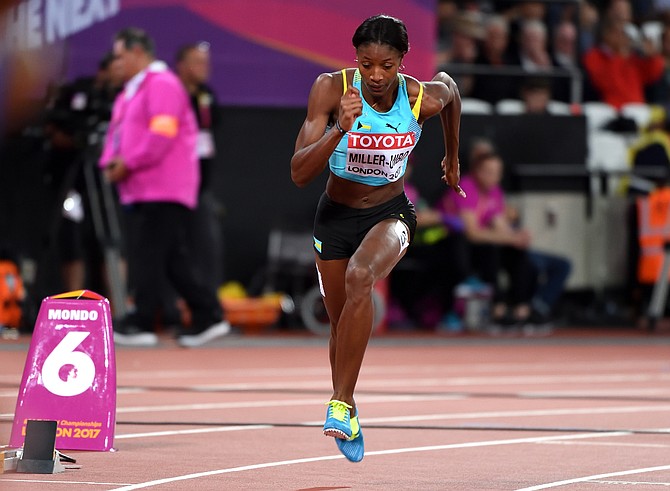 Shaunae Miller-Uibo in her 400m semifinal race. Photo: Kermit Taylor/Bahamas Athletics
#By BRENT STUBBS
#Senior Sports Reporter
#bstubbs@tribunemedia.net
#LONDON, England: Shaunae Miller-Uibo joined Steven Gardiner in securing her berth in the final of the women's 400 metres at the 16th IAAF World Championships.
#On Monday night at the Queen Elizabeth Olympic Stadium, Miller-Uibo was untested as she coasted to victory in 50.36 seconds in the opening of the three heats in the semi-final.
#It turned out to be the third fastest qualifying time, trailing Salva Eid Naser of Bahrain, the winner of heat two in a national record of 50.08 ahead of American defending champion Allyson Felix, the second place finisher in 50.12.
#"I felt fine. I just wanted to make it through the rounds and I felt I did a pretty good job of it," said Miller-Uibo moments after she completed the race. "I just want to get ready for the 200 tomorrow."
#On Tuesday, Miller-Uibo will be back in action when she contests the first round of the women's 200, the other half of her individual mission here.
#She will run out of lane five in the fourth of seven heats at 3:02 pm. The other two Bahamians in the field are Ty'Nia Gaither in lane seven – next to the Netherlands' 100m bronze medallist Dafne Schippers in six – and Anthonique Strachan in lane eight in with Ivory Coast's 100m silver medallist Marie-Josee Ta Lou in four.
#The first three in each heat and the next three fastest finishers will move on to the semi-final, scheduled for Thursday with the final on Friday.
#Tuesday at 4:50 pm EST, Steven Gardiner will go after the first medal for Team Bahamas at these championships in the men's 400m final against world record holder Wayde van Niekiek, who is attempting the men's 200/400m double.
#However, it was revealed that Isaac Makwala of Botswana withdrew from the men's 200m due to a medical condition on the instruction of the IAAF Medical Delegate.
#As a result, Makwala won't be eligible for the 400m.
#Still waiting to compete are Bianca 'BB' Stuart in the women's long jump qualifier on Wednesday at 2:10 pm EST with the final on Friday at 2:10 pm EST; Devynne Charlton in the preliminaries of the women's 100m hurdles on Friday at 6:05 am EST with the final on Saturday at 3:05 pm and Donald Thomas in the men's high jump qualifying on Friday at 6:15 am EST and the final on Sunday at 2pm EST.
#The men and women's 4 x 100 and 4 x 400m relays will be in the spotlight on Saturday and Sunday as the championships come to a close.