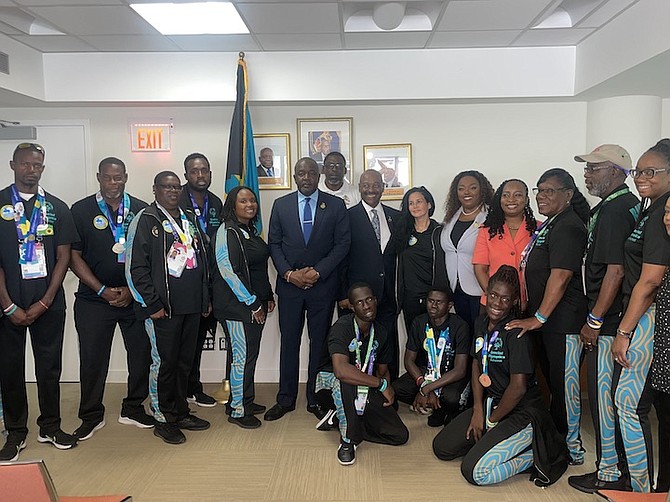 A TIME TO CELEBRATE: Special Olympics Team Bahamas returned home to celebrate yesterday after a great showing at the 2023 Special Olympics World Games in Berlin, Germany. Photo: Tenajh Sweeting/Tribune Staff
As of Wednesday, June 28, 2023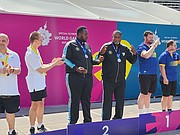 PAIR OF WINNERS: Austin Green and Bronson Aranha receive silver medals in the bowling doubles at the 2023 Special Olympics World Games in Berlin, Germany. Photo courtesy of Special Olympics Bahamas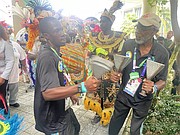 ONE FOR THE BOOKS: Government officials welcomed the Special Olympics team home in celebratory fashion yesterday at the Lynden Pindling International Airport. Photo: Tenajh Sweeting/Tribune Staff
#By TENAJH SWEETING
#Tribune Sports Reporter
#tsweeting@tribunemedia.net
#Team Bahamas' Special Olympics athletes received a warm celebratory welcome home after amassing four medals at the 2023 Special Olympics Summer World Games in Berlin, Germany.
#The seven athletes were greeted by government officials, including Minister of Youth, Sports and Culture Mario Bowleg and Minister of Social Services and Urban Development Obie Wilchcombe along with a junkanoo group to celebrate their amazing feats.
#The athletes competed at the 2023 World Games in bowling, swimming and track events. They were successful in two out of the three, adding another proud memory to The Bahamas' sporting year.
#Mr Bowleg complimented the efforts of Team Bahamas' Special Olympics athletes as they returned from another continent (Europe).
#"Let me first say how proud I am and happy to be here and celebrate with you coming back home to your homeland where you have made all of us proud," Bowleg said.
#He thanked each of the members of the Special Olympics team, including Caitlin Romer who left Berlin with a silver medal in the 100-metre finals and bronze in the 200m finals.
#Additionally, he congratulated Austin Green and Bronson Aranha, who returned home as silver medallists in the bowling doubles.
#Green also claimed a silver medal in the men's bowling singles.
#Although the team had been undergoing physical training since October for the June 17-25 Special Olympics World Games, Green said it was a bit difficult to practice when they finally arrived in Berlin. However, he said the experience was excellent because he had never been to Europe but he got a lot of time to relax and enjoy the different cuisines, culture and arts, all while picking up the silver medals for Team Bahamas. Green added that persons that want to follow in his footsteps should believe in best, work hard, and continue to fight hard.
#Aranha, Green's bowling doubles teammate, said the experience in Berlin was great.
#"It was great I loved the experience meeting new friends in a different part of the world," he said.
#The silver-medalist added that he learned too much things while at the Special Olympics World Games to put into words but will use them to elevate and get better for when they compete again. He said the competition was also very challenging.
#"It was stiff competition the guys stepped up their game which made myself and my partner step up even more," Aranha added.
#Members of the Special Olympics Committee thanked the officials and public for their continued support of persons with intellectual disabilities and Team Bahamas' journey at the 2023 Special Olympics World Games.
#Gilbert Williams, director of the Special Olympics committee, had nothing but appreciation for his team and athletes.
#"Thank you all this movement is certainly a team of persons that are passionate about Special Olympics Bahamas and about special needs. Our coaches they work extremely hard I always say to people these are real athletes and they are coached by real people," he said.
#He added that when their athletes compete they represent The Bahamas on the same level as everyone else and he thanked everyone for their support of the organization.
#Special Olympics Bahamas has competed at the Special Olympics World Games since 1979.
#Individuals that want to keep up with the organization as a volunteer or supporter can visit the Special Olympics Bahamas Facebook page.