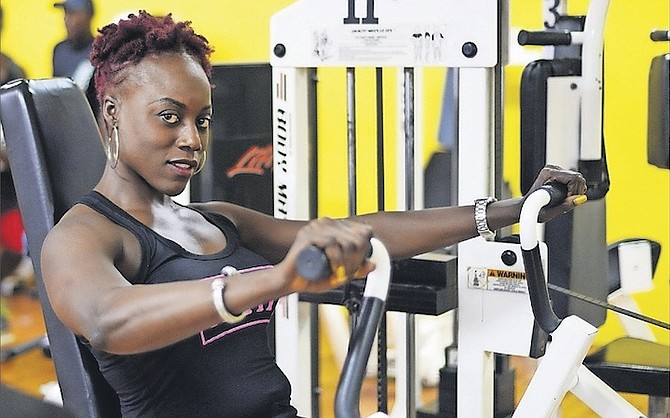 Terez Nairn

Tamara Scavella, Jomar Farquharson and Gemo Smith.
#By BRENT STUBBS
#Senior Sports Reporter
#bstubbs@tribunemedia.net
#The Bahamas Bodybuilding and Fitness Federation is getting ready to stage its Annual Novice Bodybuilding Championships at the National Centre for the Performing Arts on Saturday night.
#The event returns to its rightful place on the calendar after it was staged during the federation's National Bodybuilding Championships last year. The action kicks off at 7pm and is expected to be jam- packed with excitement.
#"Last year, we didn't finish the nationals until late the next morning," said federation president Joel Stubbs. "This year, we decided that we will bring the novice back where it will be staged by itself.
#"We want to allow the novices and those who have never won the national title before to come back and get their night of fame, accolades and props in their accomplishments. We want to have an overall novice champion prior to them coming to the big league."
#During the nationals last year, Stubbs said the more seasoned bodybuilders took the spotlight as they out-shined the novice ones and that discouraged some of the bodybuilders who were looking to stay around the sport.
#So far, there are about 20 bodybuilders who have confirmed their participation in the nationals. He noted that there are a few who have developed stage fright and have indicated that they may no longer compete this weekend.
#"We are looking at the possibility of having about 20-25 athletes compete," Stubbs said. "We expect to have competitors compete in all of the divisions, including men's physique and men's bodybuilding."
#With the event returning to its rightful place, Stubbs said they have been getting an overwhelming support from the newcomers and all of the gyms have been inquiring about purchasing tickets to come out and cheer on their favourite competitors.
#"We expect a full capacity of spectators," Stubbs said. "The venue is expected to have a large crowd of spectators as we try to take the novice championship to the next level.
#"We want to encourage as many persons to come out and lend their support to these newcomers. They need as much support as possible because it's not easy to grace the stage. They are going to be some of the bodybuilders who will be stepping up to take over when the more seasoned bodybuilders decide to step down."
#Leonardo 'Nardo' Dean, who has been working with many of the bodybuilders, said they are looking forward to putting on a grand display of talent when the competitors step on the stage on Saturday night.
#He said they have gotten a lot of interest from competitors from the various gyms and so they are looking forward to having a wide range of competitors making their presence felt.